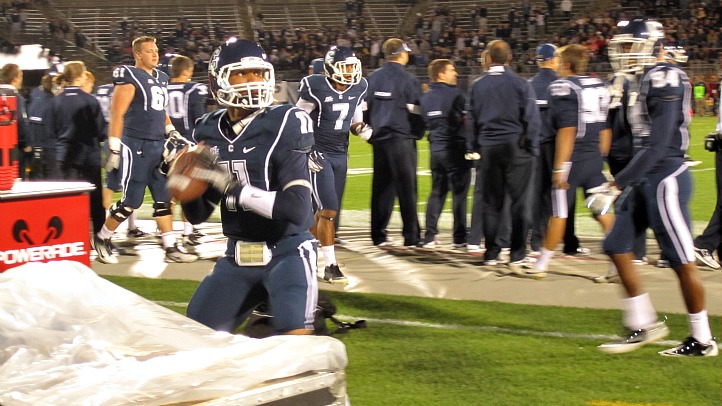 One of our biggest complaints during the 2012 season was former offensive coordinator George DeLeone's insistence on using backup quarterback Scott McCummings in the wildcat role. For the most part, the strategy was a momentum-killing failure. This isn't on McCummings, an athletic young quarterback doing what he was told; it's on DeLeone for being stuck in 2008 (the last time the wildcat was successful) and being unwilling (or unable) to change.

Well, DeLeone has been reassigned to Paul Pasqualoni's staff and new offensive coordinator TJ Weist has yet to outline his specific vision for the Huskies. But the Hartford Courant's Desmond Conner spoke to quarterbacks coach Shane Day about McCummings, and where a dual-threat quarterback will fit in UConn's new offense.

"He does have a unique skill set compared to the other quarterbacks in that in our previous offense he was a wildcat quarterback," Day, a former assistant coach with the Chicago Bears, told Conner. "We still have elements of that in our offense but what we've we had to come to or evolve to is that all the quarterbacks in our system here are all expected to be able to operate the entire offense, which from the beginning, is really what we were trying to do with Scott. I mean that's really what Scott wants to do. He doesn't just want to be the wildcat quarterback."

The quarterback competition will be stiffer this season than last. A year ago, Chandler Whitmer effectively won the job in spring practice. Now, Whitmer, Cochran and McCummings will be battling for reps, and in McCummings case, the more you can do, the better your chances of seeing the field.