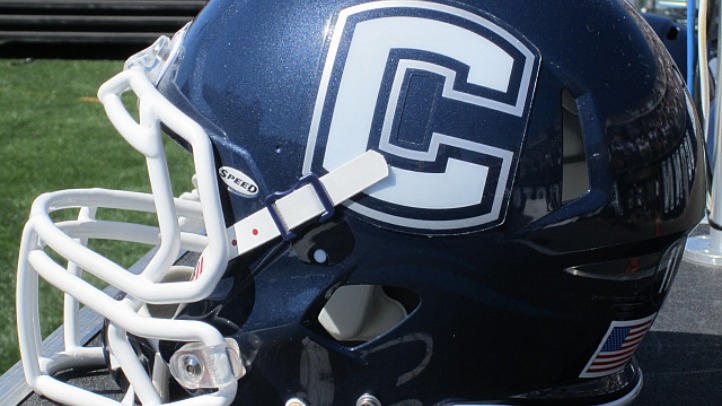 There are 10 days until the Huskies play their first game of the 2011 season and head coach Paul Pasquoloni hasn't yet named a quarterback. But that's not a surprise; he's said that all along, going back to the spring.

For now, the competition continues among four QBs long on physical skills but short on actual game experience: Michael Box, Johnny McEntee, Scott McCummings and Mike Nebrich.

Nebrich is the youngest of the bunch, a freshman from Burke, Virginia, who chose the Huskies over other BCS schools.
According to the Hartford Courant's Desmond Conner, Nebrich and McEntee showed well during last Thursday's scrimmage and both have earned more first-team reps as a result. Conner writes that they've have also been the most consistent QBs in camp.

"When I first committed, Cody [Endres] was still here," Nebrich told Conner. "The plan in the beginning was to get here, learn as much as I can, be under Cody for a year and then have the chance to play as a redshirt freshman. Once I found out he left, that's when everything changed. I knew Zach [Frazer] was going to leave and nobody else had really gotten any playing time. That's when my whole mind-set changed like, you've got to make sure you go into college ready to go, ready to compete. And that's pretty much what I did coming in and what I've been doing since I've been here."

Until training camp, McEntee was best known for his trick-shot video. Now he has a legit shot at the starting QB job.

"I feel like I'm being given a real chance right now," McEntee told Conner. "I'm just trying to make the most of it. I feel good. I feel like I'm a lot better with all my reads. I'm still trying to make all the throws but I feel like I've come along with that, reading the defenses and knowing where the ball should be."

There's still the possibility that Pasqualoni goes into the season with a two-QB rotation, and the combination of Nebrich (who can beat you with his legs or his arm) and McEntee (a true pocket passer) could be best for the Huskies offense, at least in the near term.

Either way, we'll find out one way or the other when Fordham comes to town on Sept. 1.