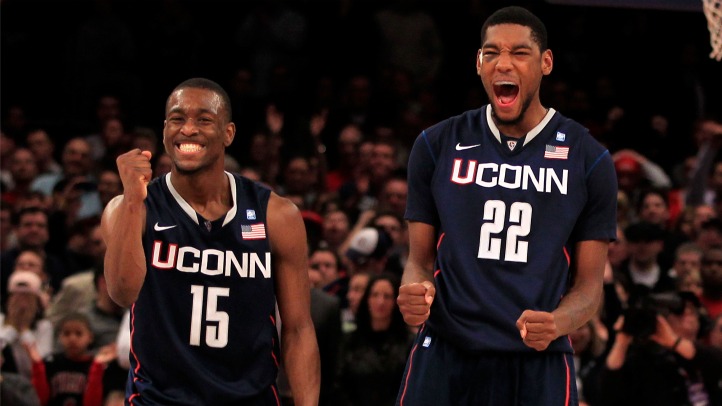 BYU's Jimmer Fredette is the Sporting News Player of the Year. Which means that Kemba Walker, a legitimate candidate for the award, will have to settle for first team all-american honors.

Given that the Huskies are fresh off a Big East Tournament championship and have advanced to the NCAA Sweet 16, I'm guessing that Walker is fine with that. Plus, as Maya Moore said Tuesday night after her final game in Gampel Pavilion, "I usually don't like that kind of individual attention because I play a team sport…"

And without his teammates, Walker wouldn't still be playing. In fact, after UConn bolted out of the gates to a 10-0 record, they slumped in February and their postseason aspirations were far from certain. By now the story has been told and retold but it merits at least one more mention: UConn's freshmen have almost as much to do with the team's postseason resurgence as Walker.

Now the team heads to Anaheim to face No. 2 San Diego State and head coach Jim Calhoun knows that how his team has come together the last five months has everything to do with it.

"Two years ago, we were in the Final Four," Calhoun said, according to the Hartford Courant. "We didn't have a particularly good season last year. We didn't get a pass. And that happens. But I don't think we ever got concerned. From the time Kemba Walker [and] Donnell Beverly started calling some of our freshmen [in the offseason], saying we want everybody up here this summer, I've never had a group work as hard as they did. They're young. They make mistakes. But their resiliency and enthusiasm and their ability to listen, it invigorates anybody."

It took nearly the entire season, but something clicked as the Huskies headed to Madison Square Garden for the conference tournament. Freshmen Jeremy Lamb, Shabazz Napier and Roscoe Smith -- all inconsistent at points during the year -- found their confidence and their rhythm these last two weeks.

"After the Big East tournament, everybody was like, 'We're almost sophomores now,' " Lamb said. "So I definitely feel more experienced, but I don't feel like a veteran."

The numbers support the words. Lamb started 36 games and averaged 10.5 points and 4.4 rebounds during the regular season. He's averaged 14.4 points in the postseason; Napier averaged 8.1 points and 3.0 assists; and Smith has been good for 6.6 points and 5.5 rebounds.

"When you have a receptive group and a great leader like Kemba," Calhoun said, "that's a nice package. It's such an unusual group of kids who just wants to be good and just wants to play."

Walker has made similar observations. Before the NCAAs he offered this: "You can say I'm the big brother," Walker said at the time. "If you have problems on this team, they come to me. I'm the leader of this team, me and Donnell Beverly, and we're going to lead."

So far that strategy has been wildly successful. Don't expect much to change now.