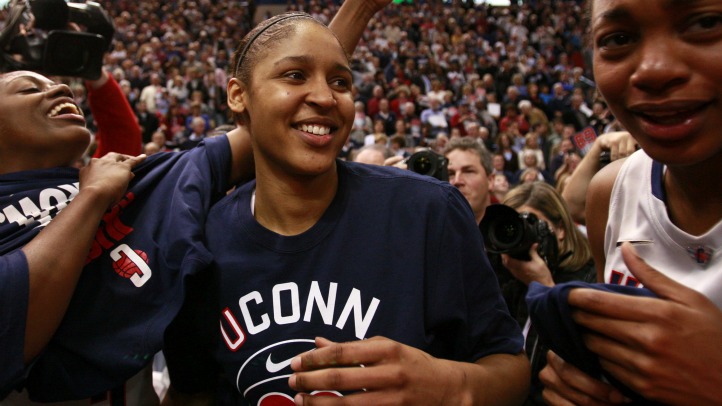 Maya Moore will never play another game at Gampel Pavilion. One of the best players to ever suit up for UConn still has hopes for a third national title in as many years, but Tuesday night, when the Huskies defeated Purdue 64-40 in the second round of the NCAA Tournament, Moore reached another milestone: 81-0 career record at home.

As has been the case during the postseason -- both in the Big East and NCAA Tourneys -- UConn has made easy work of the opponents. Against Purdue the Huskies looked sloppy offensively, making careless turnovers and missing easy shots. But one of the marks of a championship team is that when it struggles in one area, it makes up for it in another. On Tuesday, the Huskies played stifling defense, allowing the Boilermakers to convert just 25.9 percent of the field goals (20 percent in the first half).

One of Purdue's best players and most inspirational stories, Drey Mingo scored nine points (seven in the second half), but spent much of the first 20 minutes on the bench with two fouls. UConn led 28-13 at intermission, and the game was all but over.

"Their defense is a big key to why they are so successful," Purdue coach Sharon Versyp said. "People don't give them as much credit as they need to."

Guard Tiffany Hayes led all scorers with 23 points (3 for 7 from behind the arc) and six rebounds. Moore added 16 and the other senior on the squad, Lorin Dixon, blocked a shot on the last play of her career. With 2:19 to go Moore and Dixon made their way to the bench a final time. "We're done. This is our last game here," Moore told Dixon.

"That's when it really hit me and I started to get emotional," Dixon said. "For my last play at Gampel to be a blocked shot, and the way we played tonight. It was a perfect way for Maya and me to have our last game here."

After the game coach Geno Auriemma talked about Dixon's progress. "These last three weeks Lorin Dixon has made more progress than she has probably in the last three and a half years."

As for the actual game, Auriemma admits it wasn't easy. "We kind of have to do everything right," he said. "It seems like every mistake we make, every foul we commit, it puts us on edge. We just have to play a certain style of play. When we play like that, obviously we're really good. And we have to adjust to what we see. Tonight, no way it was going to be easy -- and it wasn't easy. [Purdue] is a very physical tough team to play against."

Auriemma also wasn't happy with the Gampel Pavilion turnout, calling some fans "spoiled." The arena holds more than 8,000 people. Some 5,700 showed up Tuesday.

"I think it's probably natural. I guess we need to win more," said Auriemma, whose teams have won 112 of 113 games, three Big East tournament titles and two national championships in the past three seasons. "Everybody loves a winner, you know. …"

"We have a spoiled group of fans who assume we are going to win, who assumed we would be in Philadelphia and be at the Final Four. We had the season, the Big East in Hartford and now the NCAA Tournament. You are asking them to do a lot. So I think we don't bid on it for five years."

The fans who did show up serenaded Moore off the court one last time, chanting "Maya, Maya."

"It felt awkward," Moore said later. "I usually don't like that kind of individual attention because I play a team sport. I appreciate it."
The fans -- in attendance and watching at home -- appreciate it even more.

On Sunday UConn will face Georgetown in the Sweet 16. The teams last met March 6 in the Big East Tournament and the Huskies beat the Hoyas 59-43.