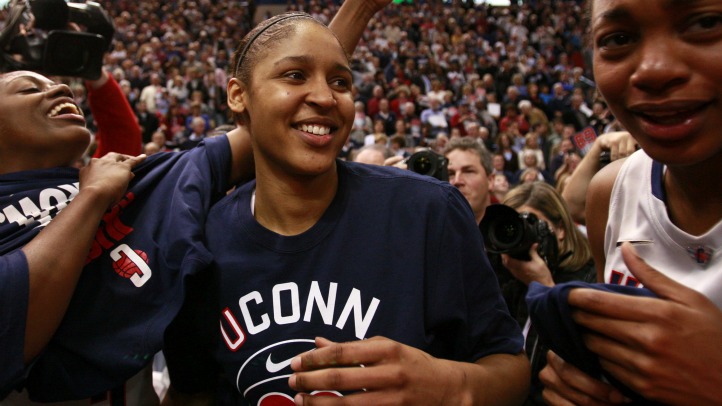 The UConn women's basketball has a double-bye into the quarterfinals of the Big East Tournament, which means they won't play until Sunday at 2 p.m. In the meantime, Tiffany Hayes and Maya Moore have been named to the 11-member all-Big East first team as voted by the conference's coaches.

"It's definitely a sense of accomplishment," Hayes said via the Connecticut Post. "It's a good feeling. I'm just glad to be able to be out there representing my team. I just wish our whole team could get it because all of us have been doing great, especially the freshmen stepping up and taking on starting roles and doing so well."

"I think sometimes we focus on some of the games where Tiffany has struggled and we have a tendency to overlook some of the great games that she's played this season," UConn coach Geno Auriemma said. "Believe it or not, I think she's been really, really good this year. And I'm happy for her. I think she deserves it.''

Apparently, the other Big East coaches agreed. What presumably required little discussion was Moore's place among this distinguished group. Named Academic All-American of the Year last week, Moore becomes only the second player in Big East history to be named a first-team all-conference member four times. And she will be just the third player in league history to be named player of the year three times.

UConn freshman Bria Hartley was named to the second team, and UConn sophomore Kelly Faris earned an honorable mention nod. Hartley and Stefanie Dolson were also unanimous selections to the all-freshmen team and are in the running for freshman of the year honors, which will be announced Friday.