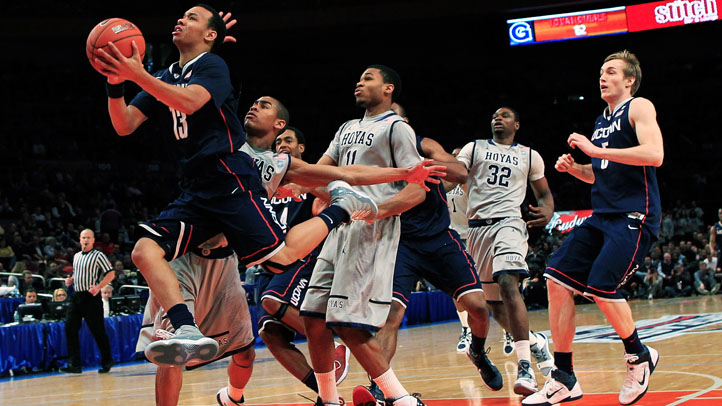 It seems that we can't speak highly enough of Shabazz Napier, even if he occasionally flies under the media radar. This is what happens when Jeremy Lamb emerges as the new face of the team now that Kemba Walker is in the NBA -- but that doesn't mean Napier won't play an instrumental role in running the Huskies' offense this season.

Last week we documented that he was having a great summer, and it appears to be getting better. The rising sophomore survived the first cut for the World University Games team, meaning he's one of 14 players vying for 12 spots. Napier joins four other players from the Big East: Notre Dame's Tim Abromaitis, Pittsburgh's Ashton Gibbs, Syracuse's Scoop Jardine and West Virginia's Aaric Murray.

Practices will continue at the U.S. Olympic Training Center in Colorado Springs, Colorado, and the final roster will be announced on Aug. 8 before the team departs for China.

Purdue coach Matt Painter will coach the United States team.

"I think it's a great group," Painter said. "We have a lot of balance. I think, on the interior we have some shot-blockers, we have some athletes, guys that can really go and get the basketball and some real good shooters. We have some good, interchangeable parts . . . I'm really excited about the mix we have."

What Napier brings to the U.S. squad is exactly what the Huskies will look for him to do in the fall: flawlessly execute the offense, break down defenses and play tenacious perimeter defense on the other end. Napier, like most freshman (including Lamb), experienced growing pains last season but played like a grizzled veteran during the Huskies' postseason 11-game winning streak that culminated in a national title.
Competing against some of the best players in the country, and hopefully the world, will only make Napier that much better prepared to help lead UConn in 2011-12.