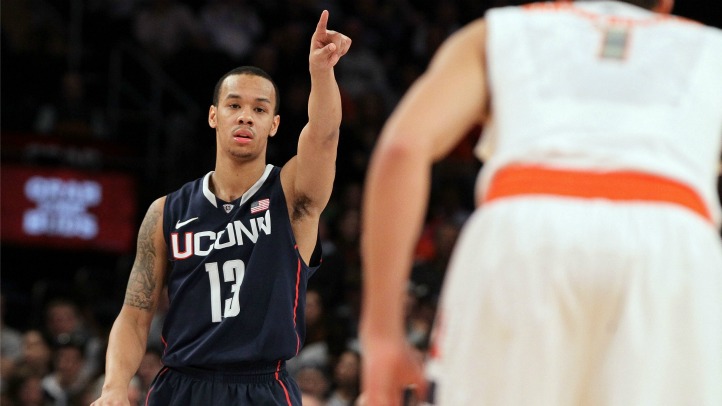 Jim Calhoun isn't the only member of the Huskies' basketball team dealing with injuries. Forward Tyler Olander was seen in a walking boot after spraining his ankle last week, and on Friday point guard Shabazz Napier had surgery on his right foot to repair a stress fracture that had been bothering him for some time. (You may remember that Napier passed on a chance to play in the Olympics for the Puerto Rican national team back in June and he was in a walking boot in early August.)

More details via UConnHuskies.com:
The fracture has been causing Napier discomfort for a few months and was the reason Napier decided to leave the Puerto Rican National Team after making the squad last spring. Rather than play hard on it all summer and possibly jeopardize his upcoming college season, Napier returned home for treatment.

According to the UConn medical staff, conservative treatment did not improve Napier's condition, leading to the decision for surgery. Doctors said the operation was successful and Napier is expected to make a full recovery. He will be in a walking boot for a few weeks, but should be 100 percent healed by the time official practice begins on Oct. 13
That's great news, obviously, because a season ago a much deeper Huskies team struggled when Napier wasn't on the court. This time around, UConn will be long on youth and short on experience. Which means that Napier's presence will be more important than ever.

Sophomore Ryan Boatright can handle the point guard duties on a limited basis but he's much more valuable to the Huskies as a scorer.

UConn opens the season on November 9 against Michigan State at Ramstein Air Force Base in Germany.