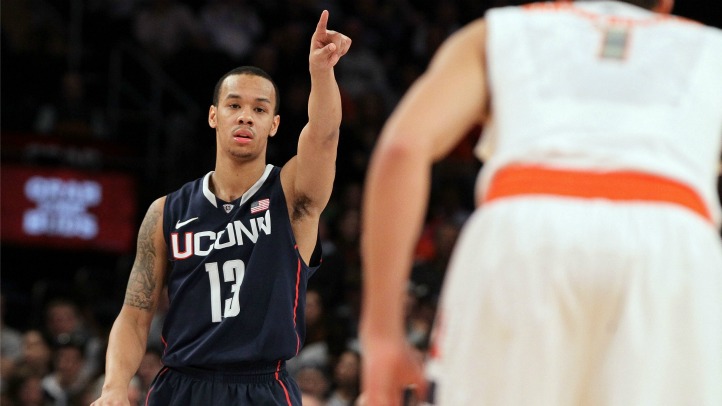 Connecticut coach Kevin Ollie didn't want to hear any excuses about Shabazz Napier's bruised left shoulder this week.
The Huskies and Napier had struggled, losing two straight since the junior captain was injured on Jan. 14 against Louisville.
Napier bounced back with 19 points, six assists and five rebounds on Sunday, leading UConn past Rutgers 66-54.
"I didn't see him grimace, I didn't see him hold it, I didn't see him shrug," Ollie said. "He was just out there making plays. He was out there leading his team. And that's what it's all about."
Ryan Boatright added 15 points and DeAndre Daniels had 13 points and seven rebounds for the Huskies (13-5, 3-3 Big East).
Jerome Seagears, who averages just 4.5 points per game, scored a career-high 21 points for Rutgers (12-7, 3-5), which has now dropped three in a row. Eli Carter added 13, but hit just five of his 14 shots from the floor.
UConn hasn't lost at home to Rutgers in 36 years, and is 18-2 against the Scarlet Knights in Big East play.
"We can't have one or two players," said Rutgers coach Mike Rice. "We need four or five players. Our balance has gone out the window because guys are too inconsistent. I appreciate Jerome and his game, but we need more for victory in the Big East on the road."
The Huskies led by seven points at halftime, but made just two of their first 15 shots after intermission.
That allowed Rutgers to go on a 10-1 run, holding UConn without a field goal for the first 5:42 of the second half. A 3-pointer from Seagears gave Rutgers a 30-28 lead.
But a steal and three-point play by Niels Giffey put the Huskies back on top 35-32 midway through the half, and Napier followed that with a long 3-pointer.
Rutgers came right back. Two free throws by Carter cut the deficit to 46-43.
But a tip-in from Daniels, followed by his steal and a dunk, put the Huskies up by nine at 52-43, and the Huskies cruised from there.
The Huskies outrebounded Rutgers 37-33.
"We picked it up and played some defense in the second half," said Daniels. "We got seven 'KOs' through the whole game. A KO is three stops in a row."
Connecticut fell behind 13-8 at the start, thanks to seven early points from Seagears. The Huskies responded with a 10-0 run, holding the Scarlet Knights scoreless for almost 6 minutes.
Connecticut stretched the lead to eight, despite having Boatright on the bench for all but 8 minutes of the half with two fouls.
Napier had nine first-half points for UConn and Daniels added seven as the Huskies went into the break leading 27-20.
Napier hasn't missed any time, but his effectiveness had been limited since Louisville's Wayne Blackshear fell hard on top of him early in the Huskies' 73-58 loss to the Cardinals.
He seemed to be back to full strength in this one, hitting four of his first six shots and grabbing five first-half rebounds.
"I wasn't thinking about my shoulder much throughout the whole game," he said. "Obviously, I was excited about how well we (were) playing defense, and just trying to make the shots I take and do whatever I can."
Boatright and Napier came into the game averaging 32.6 points as a combo. Rutgers' backcourt of Myles Mack and Carter had combined for 28.8.
Mack had just six points on 3-of-9 shooting.
Carter, who came in averaging more than 16 points a game, scored most of his points late. He hit just one shot in the first half and was 1 of 6 from 3-point range for the game. He was just 1 for 14 in Rutgers' 72-60 home loss to St. John's.
"He just has to figure out he's pressing right now," Rice said. "He just has to breathe and let it come."
Connecticut had lost back-to-back games to Louisville at home and at Pittsburgh a week ago. Rutgers was coming off losses at Notre Dame and to St. John's at home on Wednesday.
"We improved," Ollie said. "It's about wins and losses, but it's really not about wins and losses. It's about growing as a team, improving as a team and I think we took some steps toward our goal."
Copyright AP - Associated Press