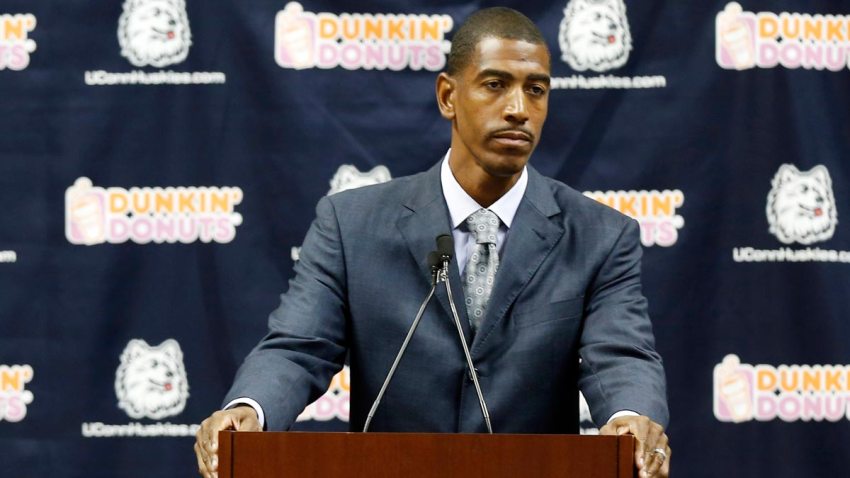 With the first exhibition game set for Wednesday, Oct. 30, the UConn men's basketball team got some good news Friday: freshman Kentan Facey has been cleared to play this season.

The NCAA had been reviewing Facey's eligibility since July. There was some question that his eligibility clock may have started when he moved from Jamaica to Long Island in 2010. Under the NCAA's "delayed enrollment rule," there was a chance Facey could lose two years of college eligibility and be forced to redshirt this season.

Instead, Facey has been cleared and he will have four years of college eligibility.

"UConn compliance staff is serious!!!!" Facey tweeted Friday afternoon. "Thank you, Lord!!! NCAA, Thank y'all, too."

UConn confirmed that Facey had been granted a waiver by the NCAA.

Details via the Hartford Courant's Dom Amore.
Athletes are allowed a grace period of one year after their actual, or expected, graduation when they can continue to compete without penalty. After that, they can lose one season of competition for each year they competed, and be required to serve a year in residence, a mandatory redshirt freshman year. Since Facey played three seasons of high school basketball in the United States after graduating in Jamaica, he could have lost two years of eligibility.

The NCAA could have considered Facey, an excellent student, a high school graduate three years ago and taken one or two years of eligibility away, and/or forced him to redshirt in 2013-14.

But UConn applied for a waiver, hoping to provide mitigating details that would show he was in the appropriate curriculum at the appropriate times.
"Once he is able to tell his side and why he decided to come over when he did and what was the formality of him being placed in a certain grade, I think we got a great case on our side," coach Kevin Ollie said, via the Courant.

And the coach added, via a statement: "I am so pleased and excited that everything has worked out for this outstanding young man. It's great to see him go through this situation and persevere. He just kept working very hard and believed in our university."

"I want to thank our university compliance department, which went above and beyond to help us with Kentan's situation, and the NCAA, which took the time to evaluate all the extenuating circumstances before making a final decision. Obviously, we feel it was the fair solution."

Facey adds much-needed depth to a frontcourt that, at one time, could have been without the freshman as well as senior Tyler Olander. Now both will join DeAndre Daniels, Phil Nolan, Leon Tolksdorf and Amida Brimah.