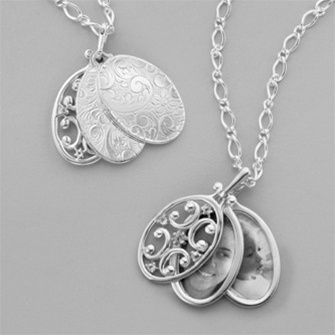 WIN IT: Tomorrow is the Annual Fashion Group International's Rising Star Awards at Manhattan's Cipriani (and of course, yours truly will be in attendance.) And I will not be alone - I was invited by the very lovely, very talented, very New Canaan, Monica Rich Kosann, who is finalist nominee in the jewelry category for her coveted lockets and heirloom jewels. We recently ran into Kosann at a party celebrating the launch of her new online publcation, The Fine Art of Family, and can't imagine of a more innovative - in a technology and social media sense - jewelry designer in the bunch.
We'll be dressing down (it's a luncheon) but we know where all the pennies in our piggie bank are heading to next. A piece from the potential rising jewelry star (fingers crossed!) of the year - like the spectacular, yet classic, Oval Gate Necklace in stearling silver. The modern locket design, veils embedded photos under elegant silver threads and can be flipped open with a simple swipe of a fingertip. The option to have three photos hidden, rather than the standard two for $795, comes at no extra charge, because for heirloom-lover Monica - the more the merrier!
BUY IT: Find the Oval Gate Necklace and the entire Monica Rich Kosann collection online.