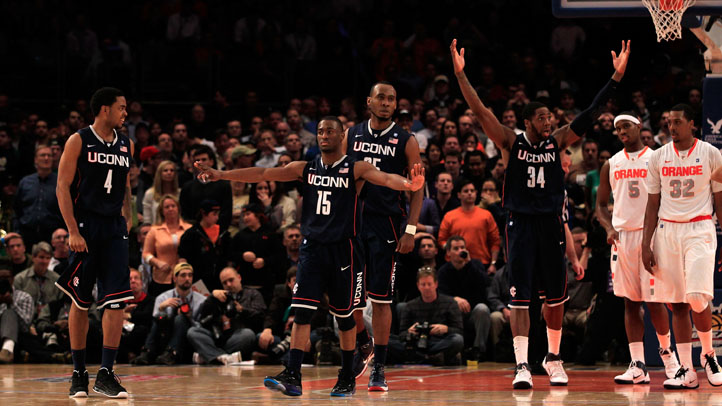 Given the history between UConn and Syracuse it was hardly a surprise that their Big East Tournament semifinal game went to overtime. Even less shocking: Kemba Walker played 45 minutes and looked like he could have gone another 30 as the Huskies outlasted the Orange, 76-71 and will play in the championship game Saturday.

UConn coach Jim Calhoun has been preaching all season that Walker is the best player in college basketball. Appearing on WFAN to talk about the win over Pittsburgh, Calhoun said, "You know the biggest thing is obviously I think Kemba is as good as a player as there is in the country and he's valuable because he plays with six freshmen and three sophomores, therefore he does more."

Coach-speak is often full of hyperbole but this time Calhoun wasn't exaggerating. Walker did everything Friday against Syracuse, scoring 33 points, grabbing 12 rebounds, handing out five assists and registering six steals. And in case you missed it the first time: he was on the court for 45 minutes.

But as has been the case in the previous three tournament games, Walker got help from the six freshmen and three sophomores Calhoun alluded to. Whether it was Tyler Olander scoring seven points and grabbing four rebounds early in the game (he averaged 2.6 minutes per game in the final nine regular-season contests; he played 27 against Syracuse), or Alex Oriakhi taking over the paint to the tune of 15 points and 11 boards, or Jeremy Lamb coolly nailing a running one-hander with 15 seconds left in overtime to give the Huskies a 74-71 lead, it was truly a collective effort.

"[Kemba] made Tyler into a better player tonight," Calhoun said after the game. "He's become my mouthpiece on the bench, too. [Walker] is such a wonderful player."

And ESPN analyst Jay Bilas pithily put Oriakhi's game into perspective with this mid-game observation: "When it's a man's game, he's played like a man."

There were two concerns coming into the Syracuse game. First, the Huskies had played three games in three days and there was a chance they might come out flat. Second, the Orange's match-up zone defense can be stifling and if UConn couldn't find a way to beat it, it would be a long night.

Turns out, the back-to-back-to-back games wasn't an issue. Even less of a problem: the Syracuse zone. UConn had players making cuts to the free throw line all night, which created 15-foot looks at the basket or wide-open shots from the perimeter. And when you have guys like Olander and Oriakhi converting, it's much easier to get play makers like Walker and Lamb involved in the offense.

When asked about the faith he has in his teammates Walker offered this after the game: "Those last three games my teammates helped me a lot. They stepped up big-time and I don't want to quit on them. I believe in those guys and I'm just going to stick with those guys."

It might have been hard to take him seriously two months ago. But now, after what this team has been through in the last four days, you know Walker believes every word of it. As for how the Huskies will manage playing five games in five days he spoke frankly: "Stay mentally tough, stay together and I think God has some plan for us." Before adding: "I just want to win."
Just in case that wasn't obvious from watching him play this week.