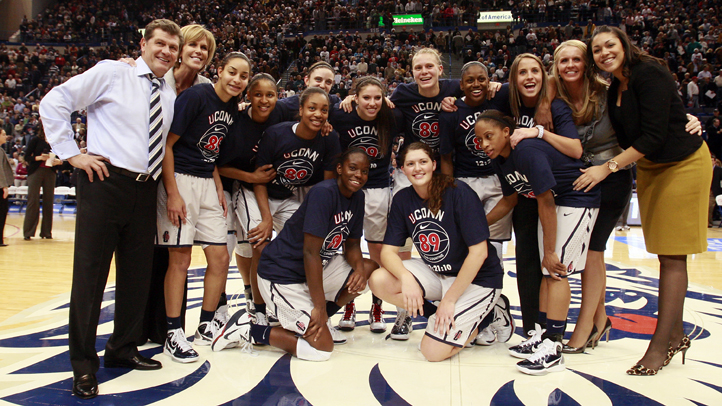 The UConn women's basketball team won 32 of 33 regular-season games and went 16-0 in the Big East. They then breezed through the conference tournament, winning three games by an average of 16.3 points. So there wasn't much drama on Monday night when the NCAA Tournament bracket was unveiled. In fact, the only unanswered question was who the Huskies would face in the first round.

Earlier in the day, UConn finished the 2010-2011 regular season as the No. 1 team in the Associated Press Top 25 poll, the 10th time the school had accomplished the feat. Several hours later, it was announced (as we mentioned) that the Huskies, playing in the Philadelphia region, would face America East champion Hartford (17-15) in the opening round.

This marks UConn's 23rd NCAA berth and they are currently riding a 20-game winning streak. And now the Huskies will try to win back-to-back-to-back titles for the second time in school history

It is no surprise that UConn, Baylor, Stanford and Tennessee are the top four teams in the tournament. Interestingly, however, this season UConn defeated Baylor, who defeated Tennessee who defeated Stanford who defeated -- you guessed it -- UConn. Which is a long-winded way of saying: the Huskies might have finished the regular season atop the polls, but any of these four teams have a legit chance to win the whole thing.

"You know, expectations can be good and bad," Geno Auriemma said during ESPN's selection show on Monday. "I think it forces you to be at a higher level. The more you win, the more you're going to win, and the more you're going to win, the more you expect to win. And the more you expect to win, the more players don't even understand the concept of losing."

Other Big East schools making it to the Big Dance: Notre Dame (No. 2 seed, Dayton region), DePaul (No. 3, Philadelphia), Georgetown (No. 5, Philadelphia), Louisville (No. 7, Spokane), Rutgers (No. 7, Dallas), Marquette (No. 8, Dayton), St. John's (No. 9, Spokane), and West Virginia (No. 9, Dallas).