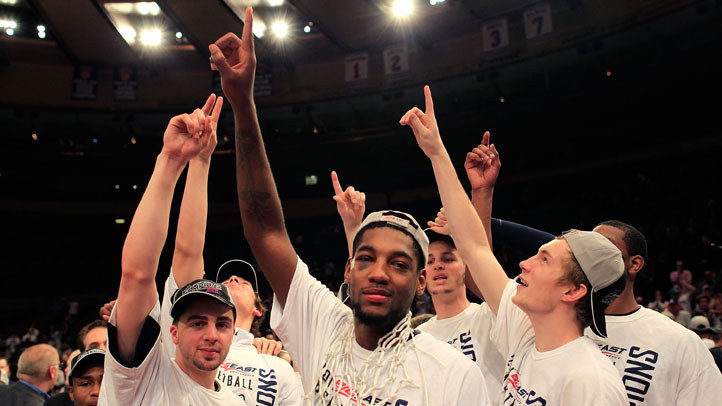 Eight days ago the UConn Huskies had just lost their regular-season finale to Notre Dame, in what at the time seemed like a must-win game. With a victory, the thinking went, the Huskies could earn a first-round Big East Tournament bye and get a much-needed break heading into the postseason. These are the things you think about when your best player averages nearly 40 minutes a contest and the supporting cast consists primarily of freshmen and sophomores.

Instead, UConn headed to Madison Square Garden and did the impossible: won five games in five days against some of the best teams in the country and left Manhattan as improbable Big East champs. And that perseverance has paid off: the Huskies (26-9), generally thought to be no better than a No. 6 seed heading into last week, are now the No. 3 seed in the West bracket. They will face No. 14 Bucknell (25-8), the Patriot League regular season and tourney champs, on Thursday in Washington, DC.

Not to get too far ahead, but if UConn wins their first-round game they could face Cincinnati, one of the 11 Big East teams to make the NCAAs. The No. 6 seed Bearcats face No. 11 Missouri in their opening game.
The nine other Big East teams to qualify for the Big Dance include: Pittsburgh (No. 1 seed in the Southeast bracket), Notre Dame (No. 2, Southwest), Syracuse (No. 3, East), Louisville (No. 4, Southwest), West Virginia (No. 5, East), Georgetown (No. 6, Southwest), St. John's (No. 6, Southeast), Villanova (No. 9, East) and Marquette (No. 11, East).