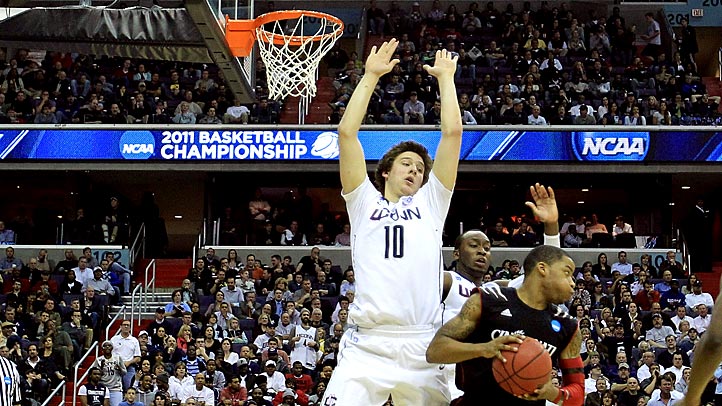 This is exactly what coach Kevin Ollie didn't want. Center Enosch Wolf was arrested Monday after allegedly pushing a female student and knocking the glasses off her face. Wolf's now suspended, which means that UConn's already thin frontcourt will be thinner when they take on Syracuse Wednesday.

Ollie has no doubt preached to his kids the importance of staying out of trouble, especially given their visible status not just on campus but nationally (and, no, UConn isn't a powerhouse this season but if you don't think this is a national story just Google "Enosch Wolf"). But the first-year coach is also resolutely positive. Last month, he told ESPN that obstacles -- NCAA, recruiting, whatever -- would have no effect on how his team approached each game.

"We're banned from the NCAA Tournament but we're never banned from heart," Ollie said at the time. "We're never banned from having determination. We're never banned for excelling. We got a lot of things to play for, and we got the pride of UC on our chest. UConn is a special place and we're never banned from that. We're never banned from going out here and showing our family and our friends what we're made out of."

Now, for different reasons, the Huskies will again have to show what they're made out of because they'll face the fifth-ranked Orange without one of their best interior players.

"Next man steps up," Ollie said Tuesday after the Huskies practiced, via the Hartford Courant. "And we go forward. I'm not going to comment on Enosch's situation, we're going to let the legal process take care of itself. Next man up. We're changing the channel and moving forward."

This means more Tyler Olander, and perhaps more Phil Nolan, the freshman who has often looked overmatched and hasn't yet scored in a Big East game.

"I'm still playing my same role," Olander said. "I definitely have to put more stats on the stat sheet, I have to contribute more."

As for Nolan, Ollie says the time is now.

"No more waiting, no more seeing," the coach said. "Phil is going to have to learn by experience. We expect him to give us a spark, to give us effort and energy. We're going to play with the guys we've got on the bench."

Sometimes conflict can tear a team apart. Other times, it galvanizes them to greater things. We'll get our first glimpse Wednesday night as to what impact Wolf's suspension will have on the Huskies.