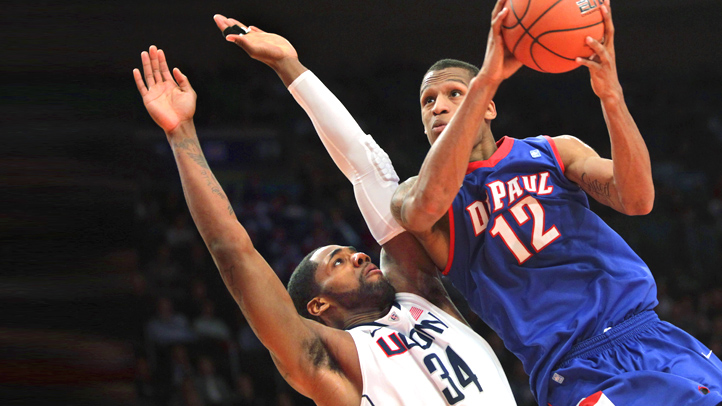 The Missouri Tigers won 30 games last season and were a No. 2 seed in the NCAA Tournament's West Region. Their national championship dreams ended before they started when they were upset by No. 15 seed Norfolk State in the opening round, 86-84. But there's every reason to believe that Missouri will be in the national conversation again next season thanks, in part, to landing former UConn big man Alex Oriakhi.
He announced last Friday that he would play for the Tigers in 2012-13 because the Huskies are banned from tournament play as part of NCAA sanctions due to low Academic Progress Rate scores. Oriakhi talked about his decision during a recent radio appearance. Transcript via SportsRadioInterviews.com:

"At the end of the day it was just a comfort level," he explained on why he decided on Missouri. Having a good friend of mine, Phil Pressey, there definitely helped, but I was definitely comfortable when I got there. They were a team that had a pretty successful season in my opinion, winning 30 games, and they were able to do all that without a big man, so I definitely knew they needed a big man. … Everything just meshed and it was the perfect fit."

Oriakhi has known Tigers' guard Phil Pressey since eighth grade and he admitted that also played a role in his decision. "Even before I transferred, we always texted each other every day, talked on the phone. He's one of my real good friends."

There was speculation that Oriakhi might decide to leave UConn for the NBA, something he said he contemplated after the 2010-11 season. So why didn't he?

"I didn't perform as well as I'm capable (of) to go to the NBA. It was definitely a step back for me, the season I had. … I didn't think there was a reason for me to even go into the draft. I feel when it's time to go to the NBA for me is when I feel I'm ready and I feel I've done everything I can do. I have more left to accomplish."

Credit Oriakhi for keeping a firm grasp on reality. The NBA scrap heap is littered with underclassmen who were convinced they were ready for professional basketball only to be overwhelmed and, ultimately, out of the league without any eligibility. For Oriakhi, he knows he has one more year to get better.

"I know I have a lot to work on and a lot to improve on, but for the most part I feel like I'm a defensive-oriented guy," he said. "Growing up, I wasn't always the most offensively capable big man … so I had to do other things to stay on the court. I'm definitely a defensive presence. I rebound, block shots. I am working on my offense so I can really score in the post. But for the most part, I'm a defensive guy. I feel like you can dominate a game without scoring."

Which is why the Huskies will miss Oriakhi's presence in the paint next season.