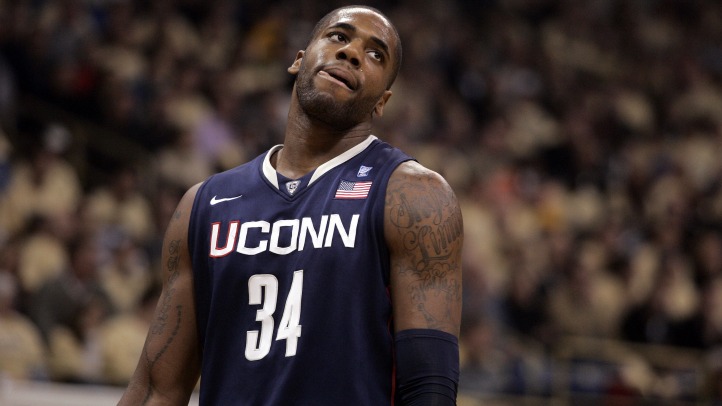 Sophomore center Alex Oriakhi admits that in order for to play well, he needs to "…get it going early … I feel if I either get a quick bucket or get a few rebounds early, I have a good game. Sometimes when I can't do either, I kind of get lost in the game." He got off to a sluggish start Wednesday night in Morgantown, managed just four points and, in his words, "kind of got lost."

But that happens with young players. We have seen it countless times this season, not just with Oriakhi, but also with freshmen Jeremy Lamb, Roscoe Smith and Shabazz Napier. But those same players have also bounced back to put up huge numbers and contribute to UConn's success. It just didn't happen against West Virginia.

That said, even in defeat, Oriakhi had the most memorable play from the Huskies-Mountaineers game. With 2:25 to go in the first half and the game tied 22-22, Oriakhi was fouled. He made his way to the free throw line for a 1 and 1 … and this happened:

Too bad you don't get points for that because UConn could have used them.

As Yahoo.com's The Dagger points out, Oriakhi's balancing act is now the front-runner for "season's strangest free throw miss." Prior to Wednesday night, it appeared Idaho State's Kamil Gawrzydek had that distinction wrapped up.

So if you're looking for a silver lining from the West Virginia loss, there you go: a non-existent award for a missed free throw.