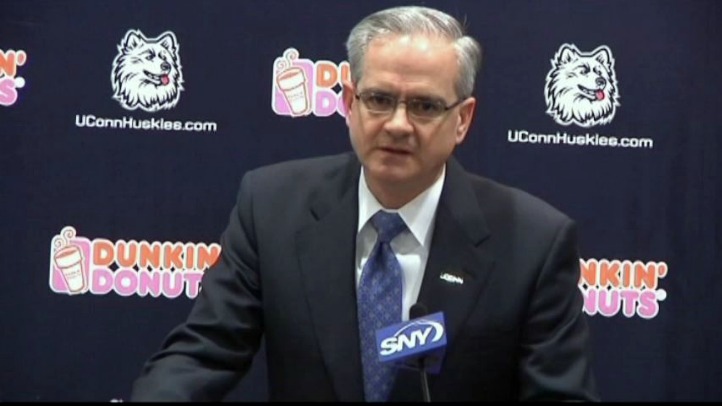 UConn athletic director Jeff Hathaway retired last Friday after reaching a separation agreement with the school and he will be replaced on an interim basis by Paul Pendergast, who formerly served as the university's director of development from 2002-06. Pendergast will assume Hathaway's duties on Sept. 19 and serve as UConn's AD until the school begins its formal search.

"I'm thrilled to be able to return to the University of Connecticut and its athletic division," Pendergast said in a statement released by the athletic department. "UConn athletics is something very special and I'm happy to do anything I can to help ensure it's success. It's no secret that the Huskies have seen incredible achievements on the field of play for many years."

University President Susan Herbst said on a Sunday conference call that Pendergast's interim status doesn't preclude him from consideration for the full-time job.

"With regard to a search, I don't have a plan yet on when the search is going to start but it would be a national search. ... Paul could certainly be a candidate if he chooses to at that time."

It's no secret that Jim Calhoun and Hathaway seldom saw eye to eye. And while we have yet to hear publicly from the men's basketball coach on the news, Paul Pasqualoni (who supported Hathaway earlier this month) and Geno Auriemma have, to varying degrees, commented on the matter.

"I would thank Jeff for all he's done for UConn football," Pasqualoni said. "This program has gone a long way in a short period of time. What he did here is appreciated."

And Auriemma issued a statement from Italy, where the women's team is currently on a week-long exhibition tour.

"This has been a sad and difficult couple of days for me personally and professionally. Jeff Hathaway has been an integral part of our women's basketball program for the last 20 years.

"His support and guidance have helped us win seven national championships and his dedication to me as a friend and an administrator has been invaluable. Without a doubt, our basketball team would not have become the nation's premiere program without Jeff's support.

"I am going to miss him on a personal and professional level."