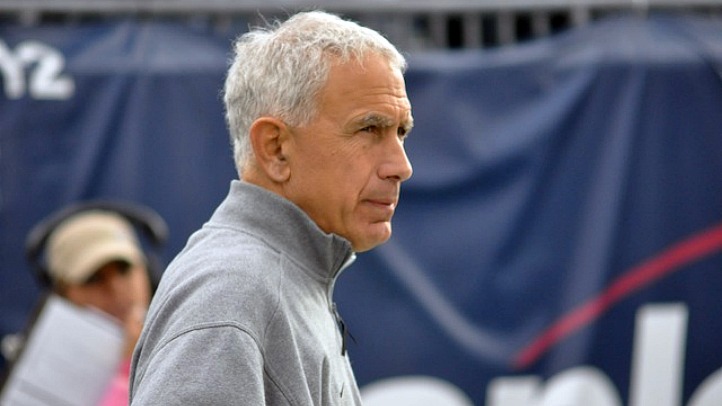 Yes, the NC State game was there for the taking but just like a year ago, the Huskies' offense betrayed them. Unlike 2011, however, this group has the ability to score points -- it's just a matter of getting quarterback Chandler Whitmer comfortable with his new team and this new offense all while adjusting to the jump from junior college to FBS.

But there's no time to bemoan one's fate. Unless coach Paul Pasqualoni can get his hands on a time machine, the Huskies will be 1-1 when they head to College Park, Maryland on Saturday to play in the first ever Edsall Bowl. He's not hyping it that way, of course, but it will be the first time UConn has faced their former coach, Randy Edsall, who left the team after the 2010 season to take the Maryland job. In fact, as far as Pasqualoni's concerned, this has almost nothing to do with Edsall and everything to do with preparing for the Huskies' next opponent, which just so happens to be the Terps.

"That stuff is all stuff you guys like to write about," he said via the Hartford Courant's Desmond Conner. "It gives you some material but there's so much to get ready for and the game requires so much focus and attention that if we fall into that trap of getting involved in that type of emotional stuff for a game it's going to make us, I think, less competitive and less prepared. So I'm going to try and explain to these guys and I think they're in this mode, 'hey, the most important thing it's University of Connecticut players are playing the University of Maryland players.

"The coaches at Maryland and the coaches at Connecticut -- because we have (defensive coordinator) Don Brown here, too -- the coaches here are not playing one play," he continued. "I promise you they're not going to be in for one play. They're not playing. They're not up, they're not in the game-plan so you guys need to get ready to play the opponent, the opposition and that's the players from Maryland so let's concentrate on that."

The Terps won two games in Edsall's inaugural season and they've already matched that total through two weeks of 2012. That said, neither win was pretty -- they eked out a 7-6 victory over William & Mary in the opener and then outlasted Temple 36-27 last Saturday in a game that saw three Maryland turnovers.

So what does Edsall think about facing his former team?

"I haven't even had a chance to think about that game," he said on Sunday. We're just finishing up the Temple game, finishing our team meetings. I won't even start on Connecticut until later this evening. That's where we're at right now."

We have a feeling we'll be hearing more about this in the coming days.