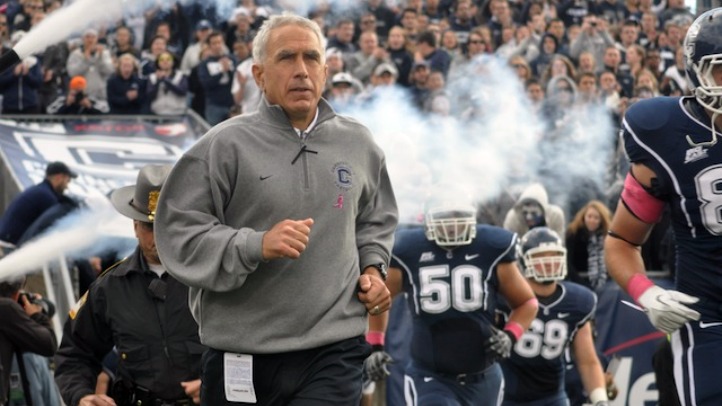 There's no escaping conference realignment talk, even if you want to. It pervades every corner of big-time college athletics, particularly when -- like UConn -- it's not clear where your future might lie.

So here we are, in the middle of football season and less than three weeks from the start of the basketball season, and we're talking about -- conference realignment. This time, it's football coach Paul Pasqualoni, who admits to fielding inquiries from recruits about the future of the Big East. We wrote last week that the conference had extended invitations to Air Force, Boise State and Navy in a football-only capacity and Central Florida, Houston and SMU in an all-sports capacity.

"To add Boise, great team. To add Houston, great team," Pasqualoni said, according to the Hartford Courant's Paul Doyle. "SMU, back on the rise. Air Force, tremendous program. Put them in the Western Conference with Cincinnati and Louisville. You've got something special there.

"Add Navy and Central Florida, if that's what we hear, put them in the Eastern Division with Connecticut and South Florida and Rutgers and have these two divisions. Play your division, play three crossover games every year, from the western division. Play four non-conference games. Select who you want to play, you know, a Big 10 team, an ACC team, a MAC team, whoever you want to play. Guaranteed BCS berth based on the quality of those teams, no issues there. So pretty exciting to me."

In theory, that's a swell plan. The problem: the Big 12 is reportedly interested in West Virginia, Louisville or Cincinnati. Which means that the Big East would have to add another program, and that assumes the ones cited above would join the conference.

So while Pasqualoni is excited about the prospects of Big East expansion, no one truly knows how this will play out. There's a chance the Big East won't even exist in a decade, perhaps sooner. Which is why president Susan Herbst has been noncommittal when it comes to the Huskies' future in the conference. Right now, self-preservation is the name of the game, and that could mean UConn, like Syracuse and Pittsburgh, will be relocating.