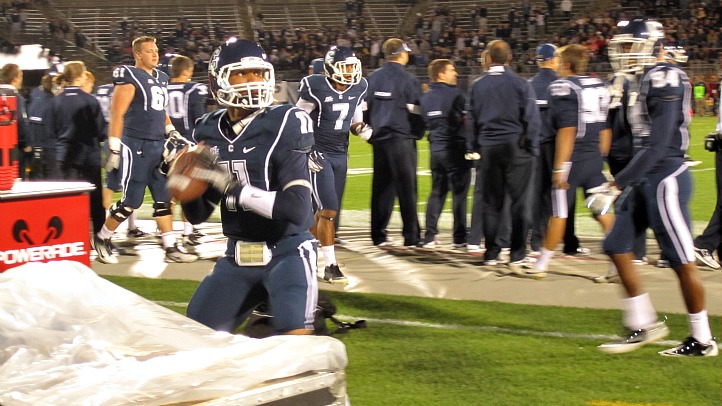 UConn's backup quarterback, Scott McCummings, rushed three times for -3 yards in last week's loss to Western Michigan. For the season, he's been on the field as part of the offense's wildcat package and has rushed 20 times for 50 yards (2.5 YPC, 2 TDs) and attempted a lone pass -- a completion for two yards.

Here's what we wrote regarding the wildcat two weeks ago following the NC State loss:

"Get rid of the wildcat. It may have worked three or four years ago, but the scheme has run its course. Opponents seem to have it figured. Coach Paul Pasqualoni says the wildcat forces defenses to devote practice time to it. Fair enough, but UConn's offense is also devoting practice time to it, and that practice time might be better utilized (like, say, by getting Whitmer more touches). This doesn't mean that Scott McCummings should be benched, just that Pasqualoni and offensive coordinator George DeLeone need to find more effective ways to use him."

Our feelings haven't changed and the wildcat remains as ineffective as ever. Pasqualoni talked about it earlier this week and why the coaches didn't turn to it more against Western Michigan.

"I thought we had a couple of real good wildcat plays," he said, "the problem was that on one or two of them was the darn snap. Scotty had to make an acrobatic catch and it's awful hard to catch the ball and at the same time look at the defense. So, you know, it was more a product of just where we were in the game and what we felt we had to do."

This provides us another opportunity to reiterate our thoughts on the wildcat: do away with it altogether. If the Jets and Tim Tebow can't make it work (and the wildcat was made for Tebow's game) then it's no longer a viable offensive option. Just in case that wasn't already obvious.