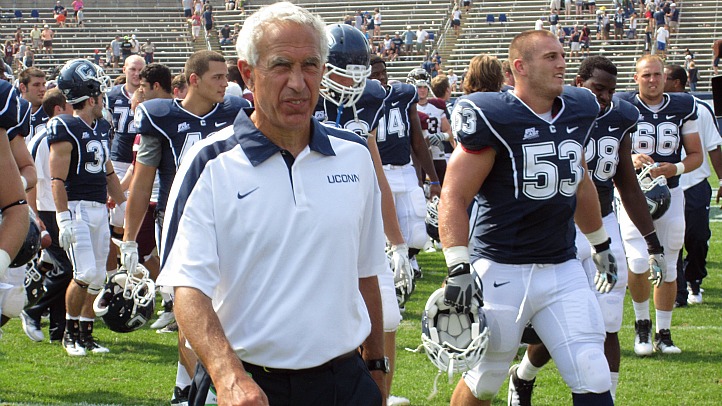 This pretty much says it all about Saturday's Buffalo-UConn get-together: in the CBSSports.com preview under "watchability" author Matt Rybaltowski writes "low." And he's probably being generous. For folks with no vested interest in the game -- and that's pretty much everyone outside of Storrs and Buffalo -- there aren't many compelling reasons to tune in.

But for the rest of us, there's a lot at stake for the Huskies, a team that hasn't won back-to-back games since 2010 and is just days off a disappointing loss to Western Michigan. It's also UConn's last best chance to pad their stats before the conference schedule begins and the weather turns. After Saturday, there will be seven games remaining against Rutgers, Temple, Syracuse, USF, Pitt, Louisville and Cincinnati. The Huskies already gave away a chance at victory last week; if this is the year they go from conference also-ran to legit bowl contenders, it has to start against Buffalo.

Like last season, consistency has been a concern, and a better effort from start to finish for quarterback Chandler Whitmer could go a long way in mitigating those concerns. But we already knew that. Buffalo's go-to offensive weapon is wide receiver Alex Neutz, described by Rybaltowski as "The 6-3 junior wideout (who) couldn't be stopped in the home opener against Morgan State. Neutz had eight catches for 154 yards and became just the second player in school history to have four touchdowns in one game. The Huskies struggled to pressure the quarterback last week in Kalamazoo. As a result, two Broncos receivers had 100-yard receiving days."

Save last week, the Huskies have been dominant on defense. Buffalo, meanwhile, has allowed opponents to score 45 and 23 points in their two losses, and gave up 34 points in their lone win. The Bulls' player to watch (per Rybaltowski): "LB Khalil Mack. The Bulls junior linebacker recorded a career-high 12 tackles, including four for loss last week against Kent State. The 6-3, 245 pound linebacker has 3.5 sacks and 7.5 tackle-for-losses on the season. As a team, Buffalo already has a conference high 14 sacks. The Bulls have played fewer games than 10 of the 13 teams in the MAC."

Ultimately, this is a game the Huskies should (and need to) win. CBSSports.com agrees, predicting a 20-6 final.

And ESPN.com thinks back-to-back MAC upsets is "unlikely," picking the Huskies to beat the Bulls, 20-3.