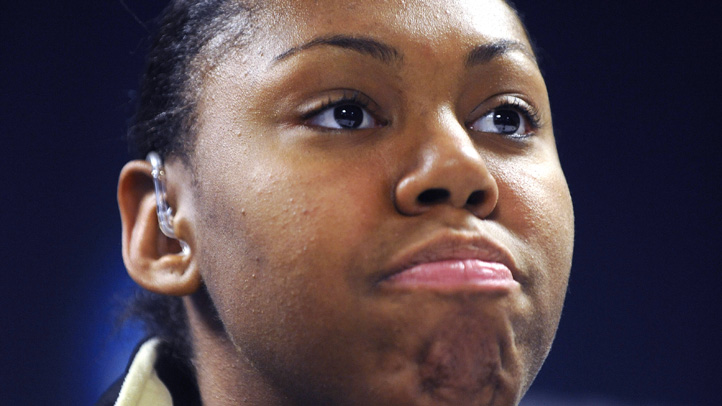 The last time the UConn women faced Purdue they won by 50. That was in a 2008 regular-season game. Now, after the No. 1 Huskies made quick work of Hartford, and No. 9 Purdue dispensed with No. 8 Kansas St., the two will meet again in the second round of the NCAA Tournament.

If national player of the year Maya Moore is the heart and soul of UConn, Purdue junior Drey Mingo is that and more for the Boilermakers. In November, Mingo came down with meningitis, strep throat and mononucleosis -- at the same time. Mingo also lost her hearing, and at the time she had a 50 percent chance of survival.

On November 23, after what doctors first thought was strep, Mingo was sent home from practice to rest. A few hours later, the team trainer found Mingo unconscious in her apartment. She was rushed to the hospital in critical condition and diagnosed with bacterial meningitis.

"At that point, after falling ill and waking up and not being able to hear anything, and then still having a bad infection, I was just worrying about my health at that point," Mingo said, according to the Norwich Bulletin. "Then, after that, with my hearing issues and change of lifestyle, because my life would be very different, was just kind of the main focus."

Mingo was in the hospital for five days. After her release, there were concerns that she would permanently lose her hearing. A second opinion, steroids (used to suppress the inflammation her brain), and two weeks of antibiotics saved her hearing, but it left her so weak that she struggled to walk.

Mingo transferred from Maryland to Purdue, and in the first four games of the 2010-2011 season averaged 17.3 points and 7.3 rebounds. "She was playing the best," Boilermakers coach Sharon Versyp said. "She was the mental leader, the emotional leader. She's just a really special young lady."

On Dec. 2, Mingo was on the bench as Purdue lost to her former team, Maryland. And 16 days later, she was back on the court playing again.

"When I did get on the court, I got a standing ovation in Conseco Fieldhouse, which will probably be the best moment I have in my career," she said. "Absolutely blessed to be around all those people who helped me celebrate my life there."

Versyp contends that Mingo is playing as well now as she did before the diagnosis. The only difference: Mingo wears a hearing aid because only 60 percent of her hearing has returned in her right hear while she can't hear at all out of her left ear.

"It's an act of God," said her roommate, Purdue guard Antionette Howard. "For her now to be back at her full force and having such an impact on the game, it's amazing, like a miracle."

The Boilermakers will face the Huskies Tuesday at 7 p.m. on ESPN.