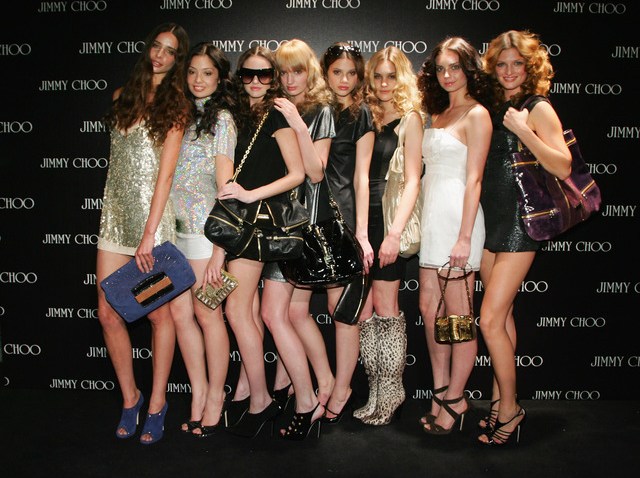 RAINING CATS AND CHOOS: As if Hunter wellies weren't lovable enough, the Choo has paired up with them to create the ultimate chic rain boot. Take your standard black Hunter boot, emboss with crocodile print, add gold hardware, leopard print lining and the Jimmy Choo stamp of approval and we believe we have success! So much of a success that these babies blew out of the shelves at Nordstrom and JimmyChoo.com so fast that a new delivery isn't slated until November. Let's not wait for a rainy day, e-mail and get your name on the wait list while you still can!
WE'VE GOT THE SKINNY: We blogged about the rise of the shredded skinnies dished out by Siwy and Hollister, and not too far behind, we've found out that American Eagle Outfitters has released a surprisingly edgy pair that we love. Although it looks like you punished your black skinnies for fading in the wash, the tears in this pair are carefully backed up with black cloth, so no gusts of wind will keep you from wearing this trend this fall.

SAME OL' TORY: Greenwich-based Vince Camuto, are creators behind our much loved Tory Burch shoes, which also has a home base on G-wich Ave. It just so happens that Tory is having a Labor Day sale this weekend, with 20 percent off purchases between $300-$499, and 25 percent off purchases of $500 or more. Or order online, with the same discount, and receive free shipping! That means your $500 purchase will actually be $375... your $300 purchase, only $240... oh, the sweet wonders of math!

SCHOOL'S BACK: Urban Outfitters in New Haven is having a student friendly sale today, (Friday, 9/4) to celebrate the return of Yalies on campus. Present your ID and receive 10 percent off purchases. Perfect for stocking up on those lewd-themed coffee cups and shot glasses and canvas posters of J.D. Salinger book covers.

THE "LEATHER ANNIVERSARY": The BCBGMAXAZRIA Signature Handbag has slouched it's way into our hearts with simplistic details, a variety of equally touchable leathers, and a timeless hobo shape, but with their 20th year anniversary on the line, Max Azria decided his 5-year-old needed a celebratory makeover. Now in pebbled cocoa brown leather, with a gold sheen and matte gold hardware, the Anniversary Signature hobo is lust-worthy enough to take your fall wardrobe from day to night.