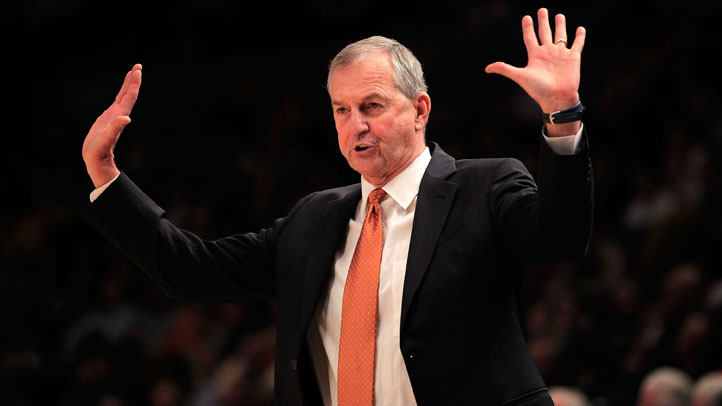 If we're taking the glass-half-full approach in light of the recent news that UConn men's basketball team will lose two scholarships for underwhelming Academic Progress Rates, then this is a good sign: high school junior Omar Calhoun, one of the nation's best shooting guards, sounds very much like he wants to play for the Huskies. There's just one condition.

Calhoun the Younger is waiting to see if Calhoun the Elder will continue to coach. Jim Calhoun, 69, has been noncommittal on his future at UConn although he indicated last Friday that he's "55/45" (percent) leaning toward returning for next season.
Which is nice, but Omar Calhoun won't be a college freshman until the fall of 2012. And if coach Calhoun plans to reevaluate his retirement options every off-season, it could turn off potential recruits. But first things first: let Calhoun coach the 2011-2012 team and go from there. For now, Omar Calhoun sounds very interested in Storrs. (Via NBE Basketball by way of SB Nation's Cardiac Hill blog)
"It would weigh into it a little bit for his decision," responded Omar Calhoun Sr. when asked if Jim Calhoun's potential retirement would affect his son's college plans. "We believe in UConn and it's still going to be UConn. We still feel like Coach Calhoun is still going to have a major part still in the development in the program even if he's not the head coach. We believe he'll still have some type of representation on how these guys represent themselves. ... We're going to try and set up a visit in the next couple weeks to UConn."
We wrote about Omar Calhoun possibly visiting UConn three weeks ago, paying special attention to Omar Sr.'s comments about Huskies assistant Kevin Ollie.
"Coach Ollie has done a fantastic job staying in touch with us and coming to see Omar play throughout the high school season," Omar Sr. said at the time. "UConn is a leader for Omar's services."

That's important for a couple reasons. First, the Huskies lost top recruiter Andre LaFleur when he took an assistant coaching job with Providence. Second, when you're down to 10 scholarships next season, there is no such thing as too many contingency plans. UConn could win 20-something games and return to the NCAA Tournament, or it could be 2009 all over again (or worse). As we wrote previously, who knows what shape the roster will be in a year from now. Jeremy Lamb could be ready for the NBA, and depending on what type of season Alex Oriakhi has, he could be too.

Recruits like Omar Calhoun and Andre Drummond would go a long way in keeping the Huskies competitive, something coach Calhoun has talked about wanting to do before he officially calls it quits. Which brings us back to our original problem...