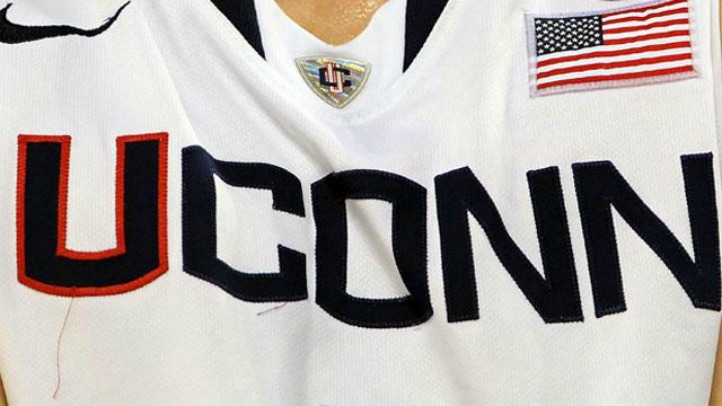 For as exciting and unexpected as 2012-13 was under Kevin Ollie, the reality is that the true test of what this Huskies team can do will come next season. They'll be again eligible for the NCAA Tournament and the underdog role won't really apply. It will also be the first year Ollie will have his own recruits, too, which could go a long way in determining how successful the '13-'14 season is.

Which brings us to Terrence Samuel and Kentan Facey, two high school seniors who will be in Storrs next fall, and who also happened to play together at Jordan Brand Regional Game at the Barclays Center in Brooklyn Saturday night.

"This is my favorite point guard right here," Facey said of Samuel (via the Hartford Courant's Dom Amore).

Samuel was happy to return the compliment.

"There are a lot of things I like about playing with Kentan," he said. "One of them is that he can run the floor, so if we're on the break I know he's right behind me. We're great on screens, on the pick and roll, and on the 'pick-and-pop' -- he has the range to step out and make a jump shot."

Samuel is the ball handler and Facey is the 6-9 big man. Together, they will be counted on to add depth to UConn's back and frontcourt, respectively. But like most things, the transition from high school to college will be a process.

Facey is going to have to get better offensively," said Joe Arbitello, who both plays during the exhibition and also coached Omar Calhoun at Christ the King High. "But there are things he can do that you just can't teach, the way he goes after rebounds — in traffic. He came up big tonight and they had some guys who are humongous. I think Kevin Ollie is going to do an outstanding job with them — I saw Omar's growth during the course of the year. Terrence is pure point guard, and you don't see many of those guys walking around. He'll make the pass that leads to the pass, and a lot of point guards have forgotten about that."