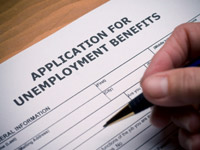 The State of Connecticut has a message for the 800 residents suspected of taken unemployment benefits they do not deserve: You're not going to get away with it.
Gov. M. Jodi Rell has created a partnership with the federal government to recover $2.5 million from about 800 people who fraudulently received unemployment benefits.
"When you cheat the system, you cheat the state, our taxpayers and the thousands of men and women who are unemployed through no fault of their own. Our intent is clear – the state of Connecticut will come after these fraudulent individuals and recover these much-needed funds," Rell said. "They will have an opportunity to pay back what they owe or risk losing their federal income tax refunds."
The state Department of Labor has mailed notices to the suspected offenders, who have 60 days to make payment or prove that they do not owe the money. After 60 days, the debts are referred to the U.S. Department of the Treasury for collection.
Rell said the partnership with Internal Revenue Service and the federal Department of Labor gives the state a "powerful new tool" under a new federal authority, the Treasury Offset Program. The money recovered will be put back into the state's Unemployment Trust Fund.

Follow us on Twitter @NBCConnecticut, on Facebook, and sign up for breaking news SMS alerts on your phone by texting "CTBREAKING" to 622669.