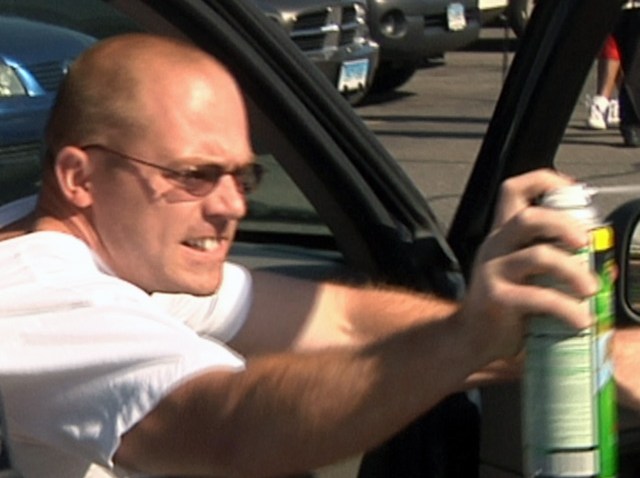 Two journalists from Fox CT were assaulted with bug spray outside court on Tuesday morning while covering a story connected to Omar Thornton's alleged beer theft from Hartford Distributors.
Christy Quail, 33, of Enfield, was in Superior Court in Enfield on Tuesday, accused of buying stolen beer from Thornton. As she left her court appearance on Tuesday, her husband, Sean Quail, 33, sprayed the journalists with a can of some chemical, police said.
CT Now reports that reporter George Colli and photographer Alan Chaniewski were sprayed with a chemical, possibly bug spray. The can appears to be Spectracide wasp and hornet spray. The warning in the material safety data sheet states that you should avoid breathing vapors of the product and avoid contact with the liquid.
A photographer for NBC Connecticut was also outside court but was not sprayed.
After spraying the journalists, Christy Quail, Sean Quail and another woman got into a car and left.
Chaniewski was taken to a nearby firehouse for first aid.
Police took Sean Quail into custody at his home.
Christy Quail was arrested three days after Thornton went on a mass shooting spree at the Manchester beer distributor facility and killed eight coworkers before turning the gun on himself. She was charged with receiving stolen property from Thornton.
According to the affadavit, Thornton made two deliveries to her. On July 16, he gave her two beer barrels valued at $300. Hartford Distributors officials told police they appeared to be empty because of the way Thornton was carrying them. On July 23, Thornton gave her a 30-pack case of Bud Light and four cases of Budweiser, court records state. They were valued at $112.
Christy Quail's case was continued to Sept. 13.
Her husband, Sean Quail, 33, was arrested on Monday afternoon, also accused of accepted stolen beer. When he was arrested on Tuesday, he was charged with three counts of first-degree reckless endangerment, three counts of third-degree assault, carrying a dangerous instrument and breach of peace.
An affidavit, first obtained by The Journal Inquirer, said Quail is the wife of a former employee at Hartford Distributors who knew Thornton.
According to an affadavit, Sean Quail was a friend of Thornton and used to work at Hartford Distributors.
Thornton's former girlfriend, Kristi Hannah, told the New York Daily News that Quail quit his job because of a "vision problem."
Copyright AP - Associated Press