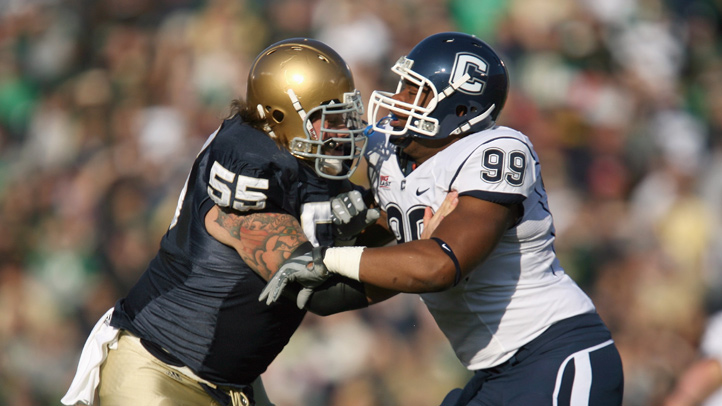 The first round of the NFL Draft is in seven days. By next Thursday evening, former UConn defensive tackle Kendall Reyes could know where he'll play professionally. There's a good chance he'll be among the first 32 players selected but if he doesn't hear his name called on the draft's first day, he'll won't last long into the second round, which commences Friday.

As it stands, he's considered the No. 5 defensive tackle prospect behind Fletcher Cox, Dontari Poe, Jerel Worthy, and Devon Still.

A quick perusal of Google turns up plenty of NFL teams with needs along the defensive line, and, conveniently, most of them pick late in Round 1.

Both the Denver Post and ESPN have Reyes going to the Patriots with the 31st pick.

The Washington Observer (Pa.) mentions Reyes with a host of other defensive players as a possibility in Pittsburgh. The Steelers have the No. 24 selection. And the Green Bay Press-Gazette cites Reyes as one of a handful of players who could bolster the defensive line when the Packers go on the clock with the 28th pick.

NFLDraftScout.com gives Reyes a grade of 84. According to the website, "85-95 is an immediate starter and first-round pick, an impact player with the ability/intangibles to become a Pro Bowl player. 70-84 is an eventual starter. A quality player who will contribute to the team early on and is expected to develop into a starter. A reliable player who brings value to the position and would go in second or third round."

Reyes' versatility, strength and experience will make him an attractive, safe option for team in need of defensive line help. And if he goes late in the first round there's the added bonus of joining a playoff team.