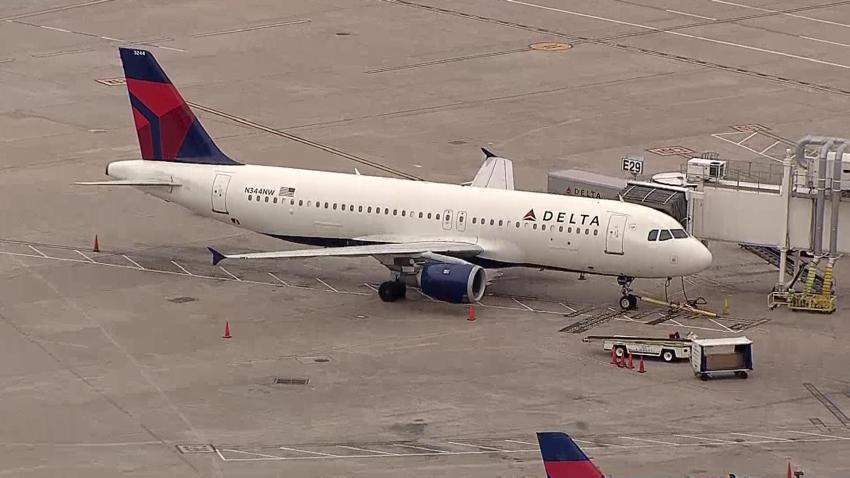 One flight crew and passengers, including two Connecticut women, kept cool under when things went awry on a Delta Airlines flight on Saturday.
A jet was flying from Atlanta to Westchester County Airport when it was forced to make an unexpected detour at John F. Kennedy airport after its landing gear failed to deploy properly, according to the Journal News.
The pilot was successfully able to land the aircraft with only two wheels and its right wing, but the impact of the landing on the tarmac created sparks, which some passengers were able to film using camera phones.
Once the plane safely landed, passengers applauded the pilot and crew for their heroic effort.
Among the passengers to experience the chaos were Jamie Pfeiffer, of Bridgewater, who had been visiting her 92-year-old mother in a nursing home in Georgia.
She was seated on the right side of the Delta flight, near the location of where the landing gear had malfunctioned. She did not see the landing, because she had closed her window shade in case it might shatter, she told the newspaper.
"But I could feel the vibration, I could feel it bumping," Pfeiffer said of the landing, referring to the wing on the tarmac. "I heard a guy behind me say he saw sparks. The pilot was just awesome."
Pfeiffer said she will be flying again at some point to visit her mother, but she was not planning on telling her what happened. She's also ordered her brother to keep mum about the ordeal.
Loretta Hill, of Milford, was also on the flight and told the New York Daily News "I've never prayed so hard in my whole life".
Steve Coleman, the Port Authority spokesman, said Delta Flight 4951 landed safely at 8:20 p.m. on Saturday. The flight was carrying about 60 passengers and four crewmembers. Passengers were transported from JFK to their original destination at Westchester County Airport via two large charter buses.