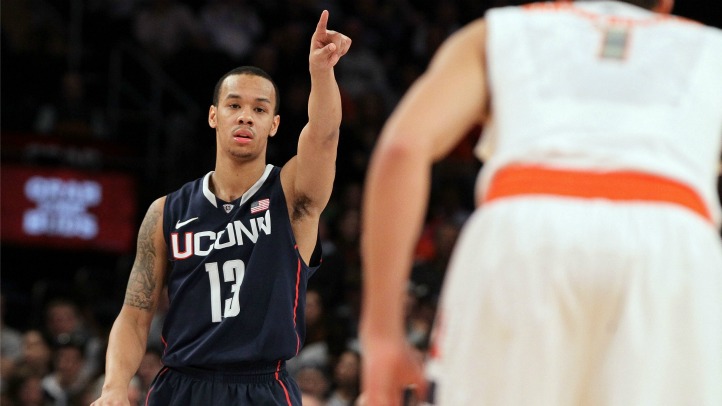 Shabazz Napier is one of the stars of UConn's men's basketball team and Husky fans have been waiting to see if he would return to UConn for his senior year or declare for the NBA draft.
The wait is over. He will stay.
The team was ineligible to play in the post-season, when the team will be eligible.
"After many days of figuring out what decision was best for my family and me, I have decided to remain at UConn for my senior year," Napier, of Roxbury, Massachusetts, said. "I am very much looking forward to getting closer to receiving my college degree, as well as becoming a stronger leader for my teammates on and off the court."
Napier, who led the Huskies to a 20-10 record last year, announced the decision on Friday morning.
"I think Shabazz's decision is great for him and great for the university," UConn head coach Kevin Ollie said in a statement. "I believe that first and foremost, it will give him a chance to earn his degree, which is something I know he'll really cherish.
Napier has been a force for UConn since his freshman year, when the Huskies unexpectedly won a national title and he is looking forward to next season and the chance for another tournament.
"We think we have a great team for next season," Napier said, "and we're excited about playing for a conference championship and in the NCAA Tournament."
Sophomore guard Ryan Boatright, of Aurora, Illinois, and sophomore forward DeAndre Daniels, of Los Angeles, also told the coaching staff that they plan to remain in school as well.
"I'm pleased that all three of them will continue their education next year and their development as young men," Ollie said. "As far as basketball is concerned, all of them improved last season and I expect that to continue through next year. We're all looking forward to what's ahead of us."