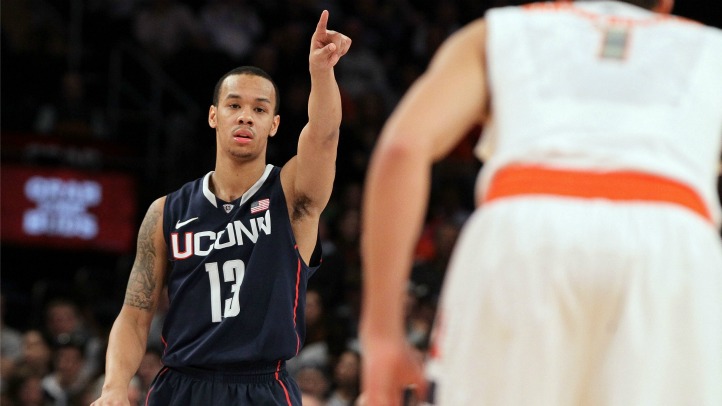 We imagine a lot of people feel this way and we'll hear similar sentiments in the coming weeks and months. UConn point guard Shabazz Napier spoke over the weekend about how he'll miss Jim Calhoun, the 70-year-old coach who retired in September.

"When I heard the news, I kind of broke down," Napier said Saturday according to the Hartford Courant's Paul Doyle. "I wanted Coach to stay another year, but that's just me being biased. But I still go to his office every single day. I feel like our bond is still so strong. I'll still depend on him."

That's the thing: Calhoun won't be spending his days at the kitchen table reading the paper before making his way to the course for a leisurely round of golf. He's been named assistant to athletic director Warde Manuel and it's reasonable to assume that he'll be very much involved in the basketball program even though Kevin Ollie is now technically the coach.

That familiarity has made for a smooth transition between regimes.

"It's been actually easy," Napier told Doyle. "Coach Ollie, we all feel like he's a great coach and he's going to be a great coach. He's been tough on us, just like Coach Calhoun. That's why we felt like he was one of the best candidates to be the head coach. It's been hard because he strives for perfection."

It doesn't hurt that Ollie, a former assistant under Calhoun, played guard in college for the Huskies.
"He's a friend," said Napier. "You can call on him anytime. He's a great guy to talk to. He's always been that person I turned to besides [Calhoun]. Seeing that he came in when I was a freshman, we just created a bond since then. There's been a lot of times I've been sitting in his office and talking with him. We've already created that bond."

Ollie will need Napier to be at the top of his game if the Huskies are going to outperform the decidedly low expectations fans and media have for them. And if all goes well, Manuel might re-up Ollie's contract that's set to expire in the spring.

"He's used to circumstances like this (the one-year contract)," Napier said. "I think that's what makes him a better man and it's why he's so mentally strong. Coach says to understand that you have to be mentally strong no matter what the circumstances are. You can't change the circumstances. He'll be great because he has such a passion."