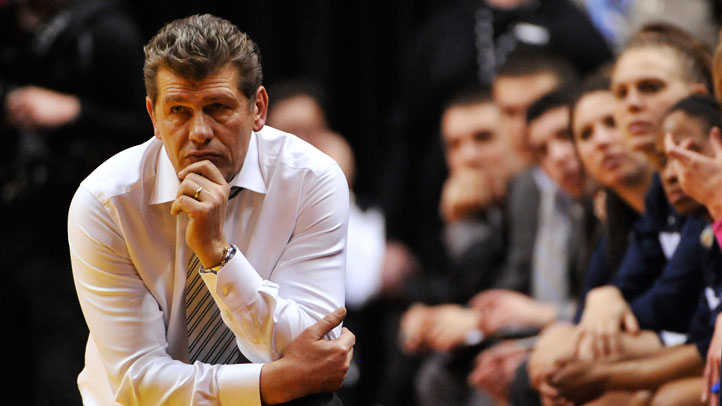 Geno Auriemma's team is in unfamiliar territory: they were swept by conference rival Notre Dame on Monday night. This means a couple things: first, the Fighting Irish are regular-season Big East champions (first time ever). Second, the Huskies have now dropped three games in a row to Notre Dame dating back to last year's Final Four.

UConn was outclassed at the XL Center in front of a near-sellout, 72-59, and they left the floor with more questions than answers. As always, Auriemma was eminently quotable during his post-game press conference.

"They are just better than we are right now," he said, getting right to the point.

Staying in the moment, Auriemma wasn't interested in looking ahead.

"I don't even care about the Big East tournament, at this point," he said. "I really don't. I could care less what happens. I don't care who wins it. If it's us, great. If it's Notre Dame, great. I don't care. We're probably not good enough to win it, so it doesn't matter to me who does."

This is how bad it was: things were so out of hand that with just over three minutes to go and trailing by 13, Auriemma replaced his starters.

"If you only knew," he said. "If you only knew how we could come out a timeout and none of the players had any idea of what to do because they don't listen to anything I say or our coaches say."

If the players thought the practice following the St. John's loss was tough, god have mercy on their souls this week.

If there was a silver lining -- at least in terms of taking the long view into the conference and NCAA Tournament -- it was that center Stefanie Dolson finally broke out of her weeks-long slump. Auriemma had gently prodded her publicly, noting that she wasn't playing well. That changed against Notre Dame.

The 6-5 sophomore scored 18 points and pulled seven rebounds. Senior Tiffany Hayes added 22 and freshman Kaleena Mosqueda-Lewis was the only other Husky to get into double-figures with 10 points.

"I think I did a better job of getting to the low post, finishing shots around the rim, and getting my high post shot to go in," Dolson said. "Really at the end of the day you look at the things you didn't do. I didn't finish at the end of the game with my layups. I didn't rebound enough at the end of the game. If we are going to win a championship I have to do those things. As well as you think you did there is always things you look back on that you could have done better."

And it's those inconsistencies -- not just with Dolson, but the whole team -- that must give Auriemma sleepless nights.

"It's been a couple of weeks, a month maybe, where somebody steps up and somebody backs up," he said about the up and down season. "When you get a team like Notre Dame where [Skylar] Diggins plays well, [Natalie] Novasel plays well, [Deveraux] Peters plays well and they get a great night from [Kayla] McBride, all of a sudden you just don't have enough."

But where Auriemma and his coaching bag of tricks might have failed to properly motivate his team, the Irish might have succeeded. A UConn source relayed this account to the Hartford Courant's Jeff Jacobs:
After Notre Dame beat the Huskies last April in the Final Four, according to the source, Irish senior forward Becca Bruszewski opened the door to the UConn locker room in Indianapolis and yelled six departing words.

"It must suck to be you."
Hoo boy. Auriemma should get shirts printed up and have the Huskies wear them daily. In what appeared to be one of Auriemma's toughest coaching challenges might actually end up being one of his easiest. And Bruszewski unwittingly gets the assist (allegedly, of course).