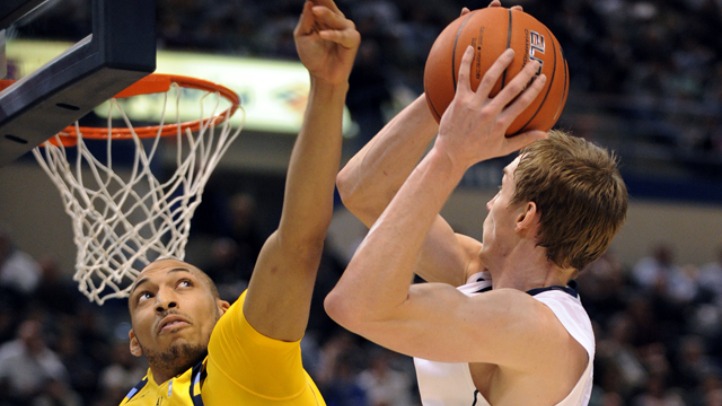 Freshman guard Jeremy Lamb spoke bluntly after UConn's 74-67 home loss to Marquette: "[Kemba Walker] still made a lot of big plays. I feel like I let the team down. I didn't hit shots I usually hit."

That's not entirely true. Yes, maybe Lamb's shot was off Thursday night, but he found other ways to contribute: he had 11 rebounds, three assists and a block to go along with eight points. And that's the point: finding ways to contribute when the shots aren't falling.
Guys have made a lot of money doing the little things -- rebounding, chasing after loose balls, taking charges -- but knowing your role is something a lot of young players struggle with. English isn't freshman Niels Giffey's first language, but after the loss he captured perfectly the tension between youth and consistency: "All the freshmen have had the freshman experience, the ups and downs."

The 2010-2011 UConn team is a perfect example of that. In general, it's Kemba Walker … and everyone else. Depending on the night, that could mean a from-outta-nowhere effort from Jamal Coombs-McDaniel, a lights-out performance from Shabazz Napier, or if the Huskies are hosting the Golden Eagles, Lamb working the boards in a losing effort.

Unlike professional sports, there are moral victories in college athletics, but they typically don't aid in recruiting or result in banners hanging from the rafters. Still -- and we have to keep reminding ourselves -- the Huskies are top-heavy with youth and inexperience. Thursday night's loss doesn't come with a "Yes, but they played hard!" asterisk; it counts as much as the other six. But efforts like Lamb's are important, even in defeat. Just as important and perhaps more impressive: Giffey, who spends most games on the bench, playing 21 minutes, scoring nine points and pulling four rebounds.

"Niels Giffey just gave us a huge lift, coming off the bench…" Associate Head Coach George Blaney said. "He did a lot of things. He was in every possession and played really good defense and kept the ball alive."

And it's this -- the sharing of the burden -- that portends good things for the future. Because while nobody wants to think about it now, Walker won't be around forever.