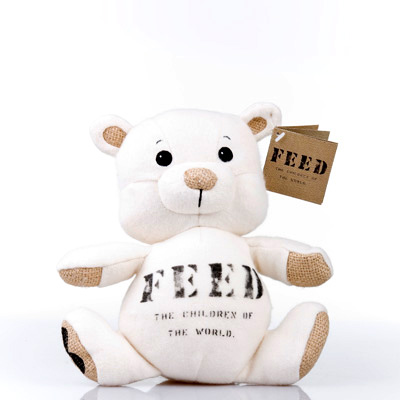 FEED IT: We loved the gorgeous Lauren Bush's World Food Programme Feed Bag project, but no matter how good the cause is, there's only so many of these burlap sacks (really now) we can have laying around. Some little bird over at the UN must have heard our "saturation of re-useable totes" plea for help because they've created two adorable counterparts for the burlap bag, named Plumpy and Nut.
In the form of teddy bears, and very cute ones if we do say so ourselves, Plumpy and Nut are named after Plumpy'nut, a vitamin-rich paste that can be made ready to eat without refrigeration or water. The Plumpy Nut can also be provided within the home, eliminating the need for a nearly impossible trip to the hospital in East Africa, and can save malnourished child's life.
The purchase of Plumpy the bear ($60) will provide Plumpy'nut to 5 malnourished children and his pal, Nut ($35), will feed 3.
BUY IT: Find Plumpy and Nut at Plaza Too, with locations in Greenwich, New Canaan, and Westport, or order online.