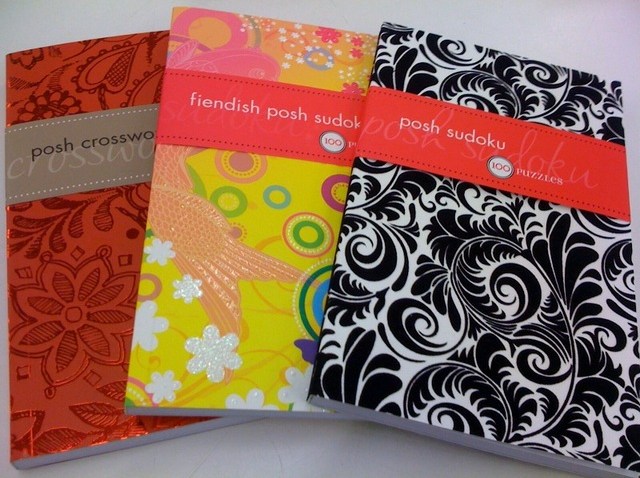 PUZZLE ME THIS... There's no question about it, we love the Pocket Posh Puzzle books from The Puzzle Society and Andrews McMeel. The Pocket Posh books come full of soduku, crosswords, word or logic puzzles and their label-less patterned covers appeal to the design lover in all of us. They look ever so chic when pulled out in the public eye but who knew for under $10 each, we could achieve beauty and brains too. Find in-store at Staples or order online.

JUST A MONOGRAM MA'AM... The hostess with the most-est might be the most difficult person on your list this holiday season. But Fontaine Maury has one piece of that might be missing from her Thanksgiving spread. Their monogrammed serving trays (and matching plates, baggage tags, and water bottles) are sure to be a hit at this party and next. Pick from their selection of adorable and prepare for compliments and the top tier of the gifting chain. Order online, trays start at $45. (P.S. -- Don't forget to check out their blog and find their stationary at Papyrus in the Westfarms Mall)

SWEET TOOTH... Little girls might naturally be sugar and spice and everything nice, but that doesn't mean we can't sweeten the deal. Pottery Barn Teen seems to see where we're coming from with their Sweet Treat Storage Holders ($19-$29.) Warning: the full set of stacking cupcakes and stash-ready pink donuts and cake slices are so adorable, they may cause tooth decay.