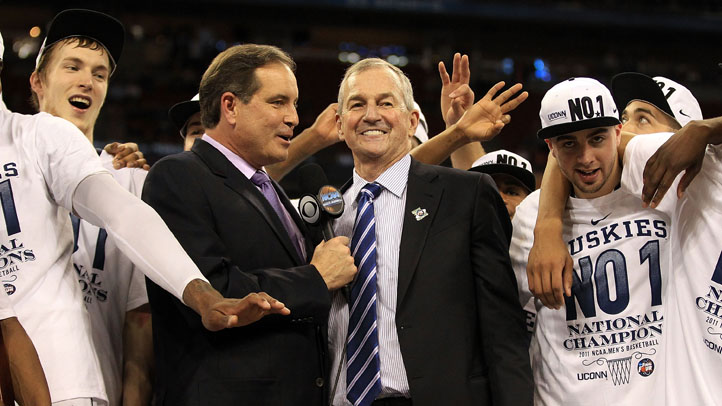 On Sunday, the Boston Globe's Bob Ryan, appearing on ESPN's "Sports Reporters," made the case that Jim Calhoun is underrated.

Given Calhoun's career arc, from high school coach to Northeastern and eventually to UConn a quarter-century ago -- as well as what he accomplished along the way -- it's a hard point to argue, even if it is often obscured by Calhoun's sometimes surly demeanor.

The text of Ryan's comments:

"Now how would I describe Jim Calhoun? Proud, testy, defensive, arrogant, combative, stubborn and sarcastic all come to mind. As do passionate, loyal and witty.

"Calhoun's accomplishments, which now include three national championships, remain underrated. He made his own way from Day 1, he never had a rabbi or a patron in this business. He was hired out of Northeastern straight out of high school coaching in 1972. And most people forget how unremarkable UConn was when he took over, before he began recruiting nationally, and before he made UConn a go-to school for superior athletes who want to get up and down the floor.

"He can recruit and he can coach. Players get better under Jim Calhoun. No one would remotely suggest that this current team is the most talented team in the country. But winning 11 in a row during the postseason doesn't just happen.

"Now in terms of personality, it was once said of Ted Williams, 'He might have been a headache but he never was a bore.' That description certainly fits Jim Calhoun."