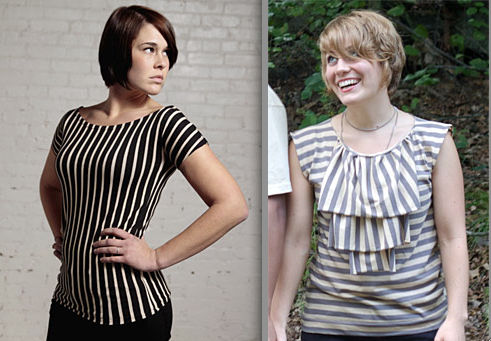 STRIPE IT... So we admit it, we were extremely passionate about the Breton Stripe revival this past season... okay, maybe a little too passionate. In fact, more than 70 percent of our wardrobe now consists of every striped article known to mankind... from a Russian sailor boat-neck to traditionally Rugby polos... and don't even get us started on that vintage Ibiza neon skinny striped t-shirt we totally overpaid for on eBay.
We think it might (just might) be time for us to give the Breton Stripe trend a rest. At least for the time being we'll have to settle on some sort of fair compromise. That's why we're digging these two vertical striped tops from Aticc in New London. Incase you don't know already, Aticc is a hip little spot that's part gallery, part boutique. Featuring some of the hippest brands around (Kill City and WeSC to name a few) and local Connecticut designers and artists, Aticc has all the makings of the coolest (and perhaps only) Connecticut showroom around.
The first (left) comes by way of New London's Susan Hickman and screams retro Givenchy and almost makes us want to sew in our own shoulder pads. The second (right) comes from Christin Gallagher's line, Ima, with a cascading ruffled neck. Both ring in under $35. Score!
BUY IT: Find at Aticc in New London, 140-B State Street, or order online.