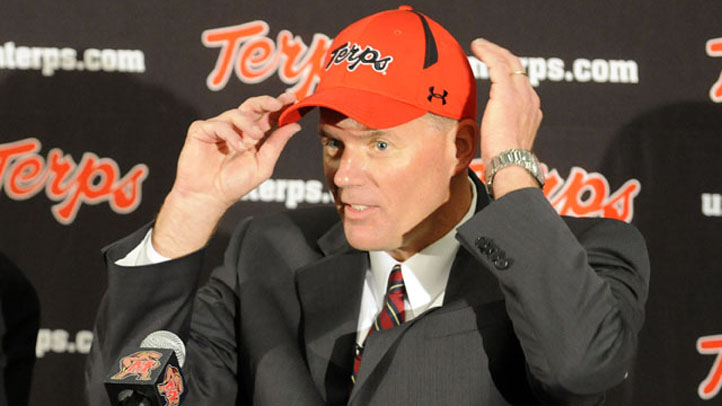 It wasn't that Randy Edsall left the UConn football program after 12 seasons, it's the way he did it. He accepted the coaching job at the University of Maryland less than a day after the Huskies lost to Oklahoma in the Fiesta Bowl. That was a tough and sudden change for the program, and it left a bitter taste in the mouths of many of the players.

But hope springs eternal and all that. The UConn football team began spring practice Tuesday with a new coach and a fresh outlook. Paul Pasqualoni returns to the Big East after a six-year stopover in the NFL. And the sting of Edsall's departure is slowly fading into the background because, well, it has to.

"The ball keeps rolling, it doesn't stop," center Moe Petrus said, according to the Hartford Courant. "Sometimes you've got to catch your balance and keep rolling with it, you know? We were very excited to see who the new coach was going to be. You can't dwell on [Edsall's departure]. It happened. It is what it is. You just have to move forward and make the best of the situation we have."

To Edsall's credit, he eventually did contact as many Huskies players as he could to explain why he left.

"I've talked to Coach Edsall personally, he's a great guy," wideout Kashif Moore said. "I still love him and respect him and thank him for everything he did for me and the University of Connecticut, period. … I think everybody is OK with [Edsall leaving for Maryland] now. It's something you have to be mature about. You have to understand sometimes there are going to be cards dealt that you don't like. You know we've dealt with things before so you know we're strong."

Which gets back to Petrus' comments above. The games will be played whether you're prepared or not. Plus, as Lou Holtz once said about telling people your problems: "Half of them don't care, the other half are glad you got them."

Which is why the players and coaches were happy to get back to work this week. When asked if there was a "different vibe" on Day 1, Moore offered this: "Yes, as far as the practice schedule it did, but we have all been playing with each other the whole time, the only differences are the coaches. It was good to just get out here and finally get things going."

In terms of football-specific concerns, obviously quarterback is high on the list. But Moore will lead a group of wide receivers who, according to offensive coordinator George DeLeone, will have to rely on strength in numbers.

" It's going to be a position by committee," DeLeone told ESPN. That's the reality of it. It's going to have to be a team game. It's going to have to be individuals taking their ego and putting it off to the side for the benefit of the team, because there are a lot of guys who can do some things, but there may not be one dominant guy. … I see a group that can be productive, but it's going to have to be done unselfishly."

That's the focus. Because as the Courant's Desmond Conner points out, what happened with Edsall "really doesn't matter either way now." And if the Huskies show well in the Big East and make it to another BCS Bowl, nobody will remember what went down two months ago. That's the wonderful thing about winning.