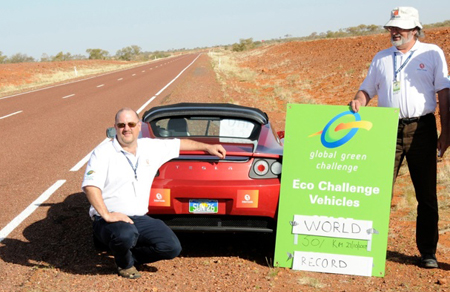 Looks like
Tesla Motors
wasn't kidding about the Roadster's 200 mile range: a pair of drivers in
Australia
set an EV range record of 313 miles (501 kilometers) with a
Tesla Roadster
in the 10th Annual Global Green Challenge in Australia.
Tesla Roadster owner
Simon Hackett
and co-driver Emilis Prelgauskas completed the trip on a single charge. The prior record was set back in April, when another
Tesla Roadster
completed the entire 241-mile Rallye
Monte Carlo
d'Energies Alternatives race with 38 miles left on the battery.
(Source: Tesla)
Copyright GCTEC - GoodCleanTech