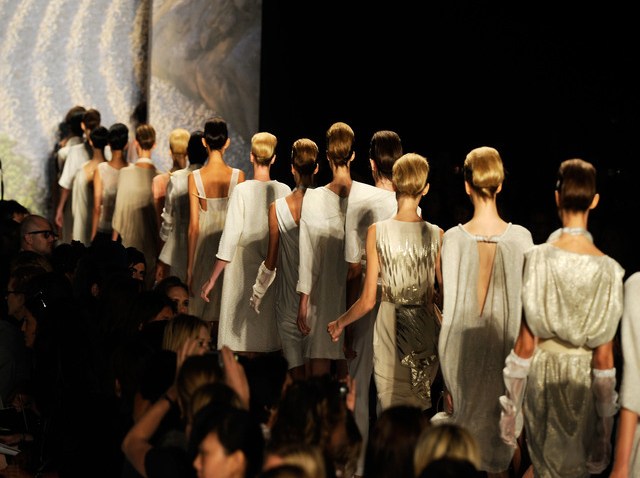 BEAUTY BEAT.... We started our morning off backstage with Pattie Yankee of Dashing Diva at Abigail Lorick's show at the Tribeca Grand. She complimented Lorick's mint green and cerulean blue pleated and preppy collection with her patriotic duo of Box Seats (bright true blue) and Miranda's Law (candy apple red). With many years as tip-painting veteran in the Fashion Week game under her belt, she gave us tips on how to get a runway ready mani in a hurry. Then we scurried over to Hayden-Harnett, where we felt the heat of their dessert themed show backstage with Tarte and Davines, where they showed us how to create the windblown and blustered look that not only has luster, but lasts.

HEAVENLY IM-PORT-ANT... When we read Ports 1961 designer Tia Cibani's opening statement that her show would be very minimalist, we expected a lot of geometric shapes in neutral shades of boring. However, we were pleasantly surprised by her interpretation of an ethereal image in pale pinks and peach silk dupioni and organza. Lighter-than-air accessories came in the form of sheer and cinched opera gloves, glass-blown baubles, and cellophane caplets. Evening separates with winged backs, draped or origami-folded making it the perfect balance of shimmer and shine for knocking on heaven's door.

FASHION'S NIGHT OUT: Karen Robinovitz made sure that no one would miss her Purple Lab event in at the Meatpacking District's Scoop. We were escorted via lime green Ford Fiesta and greeted by lychee martinis and a live burlesque window display. Across the street, we were able to catch Michelle Trachtenberg (xoxo) and Molly Sims at Diane Von Furstenberg. Later on, we headed uptown to the Lexington Avenue Victoria's Secret, where Adriana Lima and Miranda Kerr were signing autographs for a building-wrapping line. We snuck in to chat with Miss Kerr about the Fashion's Night Out t-shirt she designed and her plans for Fashion Week.

Check in with our Twitter for videos from our adventures with beauty tips and our exclusive with Miranda Kerr last night!