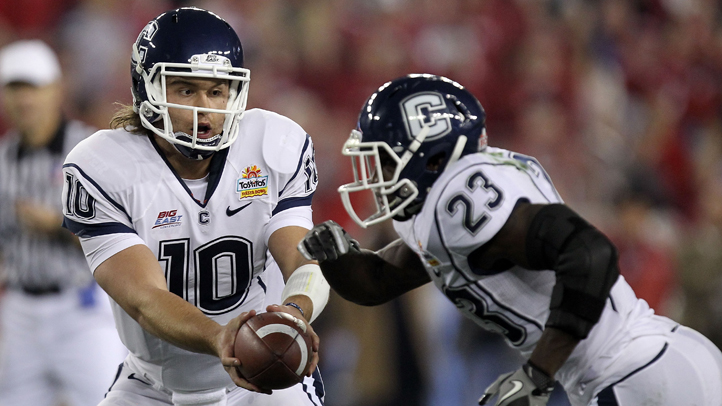 It's been three days since Jordan Todman was drafted and he's still baffled by his free fall. Thought to be a third-round pick in the days and weeks leading up to the draft, Todman, the former UConn running back and 2010 Big East Player of the Year, didn't hear his name called until the sixth round, after 20 other running backs had been drafted.

Disappointment and confusion aptly described Todman after the draft and he is still coming to terms with what happened. "I've done 11 different drafts and each year we have about 10, 12, 14 people in the draft," Todman's agent, Brian Murphy of California-based Athletes First, told the Hartford Courant. "Of those 14, about 80 percent you can kind of pinpoint where they're going to be drafted, in a pretty narrow range, and that comes true."

It could be worse, of course. Todman's former teammates, Scott Lutrus and Zach Hurd, weren't drafted, and not only that, they now have to wait until the labor situation is resolved before they will get a chance to earn a spot on an NFL roster.

Todman has the opportunity, it just came a little later than he expected. As for why, exactly, he fell to the sixth round, no one's quite certain.

"The Patriots would have been good … would have been a good fit close to home," Murphy told the Courant. "But at the end of the day, what happened, trying to piece together what happened, you really have to go back and look at every team that had him on their draft board. Look at where he was ranked and see why he wasn't taken."

We wrote last week that the Patriots could be a potential landing spot because they had six of the first 92 picks in the draft, but also because they had a need at running back. Didn't happen; instead, New England drafted two running backs not named Todman, in the second and third rounds.

Another possible explanation for Todman lasting until Round 6: his size and concerns about his durability. "It's not like he was playing Division I-AA or he's playing in a conference where there weren't good defenses," Murphy said. "He went up against some great defenses, including the bowl game. I think people tried to paint him as a smaller back, but the reality is when he got to the combine and you looked at him …he's a pretty strong guy and he had a lot of carries."

As for the durability issues, those might have been harder to assuage.
Nevada tight end Virgil Green was thought to be no worse than a fourth-round pick but because of injury concerns, he lasted until the seventh round. Same with seventh-rounder Lee Ziemba, an offensive lineman from Auburn. Most draft analysts had him with a third-round grade but medical concerns caused him to slip.
On the other hand, UNC linebacker Bruce Carter went in Round 2 to the Cowboys even though he tore his ACL in November. The difference? Prior to the injury some NFL personnel people thought he would be a top-15 pick.

None of that matters for Todman, who now has sufficient motivation to prove his doubters wrong … if he didn't already.