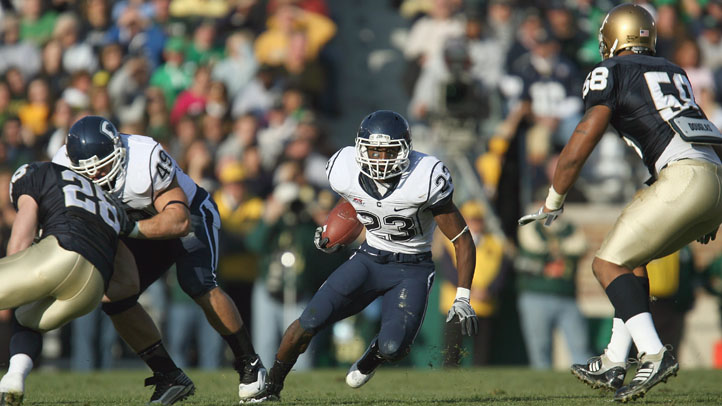 We haven't heard much from Jordan Todman since late April, when the San Diego Chargers selected him in the sixth round, about three or four rounds after everyone -- including Todman -- thought he'd be taken. But that's because the NFL is in the last stages of a lockout that's gone on for nearly four months now, and Todman hasn't had one official meeting or practice with his new team.

The Hartford Courant's Desmond Connor caught up with Todman recently to see what he's been doing to keep busy in the weeks and months since he was drafted.

"You know how it usually would go, you'd have your playbook," Todman said, according to Connor. "Learning the playbook, allows you to play earlier maybe but because of the situation we're in, we're struggling there and not being with the team. I'm sure it's very aggravating to all the players but we've preached and we've heard enough. There's not a lot more we can do at this point. It's not up to us. So we're just kind of playing the waiting game ... see what happens."

And while Todman's staying in shape, it's one thing to be physically fit as training camp approaches, it's something else entirely to be in "football shape," ready to take and receive hits and carry the football 20-something times a game.

"When you get tackled and get back up and go, play after play ... I haven't done that in a while, since Oklahoma, so it's been a while since I had a helmet and some shoulder pads on and doing some serious running around type of thing," Todman said. "I guess the only thing I can do is run around outside to get in game shape, get ready for that weather and try to get in football shape, but there's nothing like football shape until you get to camp, so I guess, come camp, we'll see how far I am."

We wrote in May, shortly after Todman fell to the sixth round, that just because he wasn't a high-round pick doesn't mean his NFL career is over before it starts.
"San Diego took Todman as insurance against losing running back Darren Sproles, a 5-6, 190-pound dynamo. Sproles' contract is up and it won't be cheap to keep him, although San Diego will try," we said at the time.

Missing out on mini-camps and organized team activities certainly don't improve Todman's chances of making the team, but everyone -- from rookies to 10-year veterans -- are in the same situation. And it could be much worse: guys like Scott Lutrus and Zach Hurd weren't drafted at all and are still waiting to be signed as free agents, which can't happen until the lockout is over.