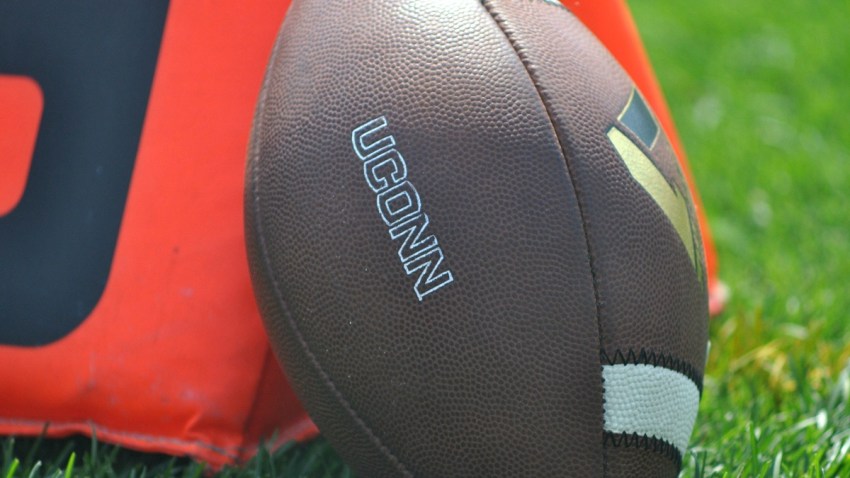 Nick Montana spun out of what looked like a certain third-down sack, scrambled to his right and whipped a pass back toward the middle, where Justyn Shackleford snagged it for a 10-yard gain and first down.
The play prolonged a possession which produced a field goal, providing Tulane a two-score cushion in the fourth quarter, and helping seal a triumphant second-chance for a senior quarterback with a famous last name.
Montana completed 73 percent of his passes, including one for a touchdown, Tulane's defense produced three turnovers and a safety, and the Green Wave defeated Connecticut 12-3 on Saturday night.
"It was so much fun to be back out there," said Montana, making his first start of the season. "We may have struggled a little bit, but we were able to move the ball and come up with a big win."
With his Hall-of-Fame father, Joe Montana, watching from inside Tulane's new on-campus stadium, the Green Wave quarterback completed 19 of 26 passes for 135 yards. While his production was hardly spectacular, Montana did not take a sack and did not turn the ball over while helping Tulane (2-4, 1-1 American Athletic Conference) to its first league victory.
"He did a great job in the huddle, telling us, 'Calm down. This is what's next,'" Tulane running back Sherman Badie said. "He's very experienced. He's been in the game for a while. He understands what to do and what not to do throughout the game."
Tulane gained 167 yards on the ground, led by Badie's 77 yards on 14 carries.
Chandler Whitmer was 17 of 24 for 141 yards for UConn (1-5, 0-3), which lost its fourth straight after taking an early 3-0 lead on Bobby Puyol's career-long 44-yard field goal.
Whitmer briefly was replaced in the second quarter by Tim Boyle, but he was intercepted by Lorenzo Doss.
Huskies freshman running back Arkeel Newsome lost two fumbles, both recovered by safety Darion Monroe, who also forced one of the fumbles.
Whitmer, though, came to Newsome's defense.
"He's trying to make plays, fighting for extra yards. It's something he'll learn as a young guy," Whitmer said. "You have to learn sometimes to go down instead of fighting, but it's honest. It's honest mistakes and he's fighting hard and we love him."
Montana was Tulane's starter a season ago as a junior, helping the Green Wave to a 7-6 record and its first bowl bid in more than a decade. Still, he was also erratic while playing with an injured throwing shoulder.
In August, he lost his job to redshirt freshman Tanner Lee.
With Lee not yet ready to return from his shoulder injury at Rutgers two weeks ago, Montana got another chance to run the offense in a game Tulane had to win to maintain realistic hope of turning its season around.
"We really needed one," Montana said. "A conference win is big for us, and a win in general is big for us."
Montana hit his first four passes, including a 21-yarder over the middle and his 7-yard scoring strike to Charles Jones, which made it 7-3.
Tulane took a 9-3 lead when defensive end Tyler Gilbert surged into the backfield and cut down running back Max DeLorenzo for a safety — a play set up by Peter Picerelli's 38-yard punt to the UConn 1-yard line.
Green Wave freshman kicker Andrew DiRocco, who'd missed four of five field goal attempts entering the game, hit a career-long 38-yarder in the fourth quarter to make it 12-3. The kick came just days after former Tulane kicker Cairo Santos, a 2012 Lou Groza award winner who is now with the Kansas City Chiefs, visited during his NFL club's bye week to work with DiRocco in practice.
All three of UConn's turnovers occurred in Tulane territory.
In the second quarter, Doss intercepted Boyle's third-down pass on the Tulane 38. Later in the quarter, Monroe ripped the ball away from Newsome as the pair went to the ground on the Tulane 30.
Down 7-3 in the middle of the third quarter, UConn was in field goal range after Newsome caught a 7-yard pass from Whitmer, but Newsome lost the ball again on a hit by Tanzel Smart at the Tulane 24, and Monroe recovered.
Copyright AP - Associated Press