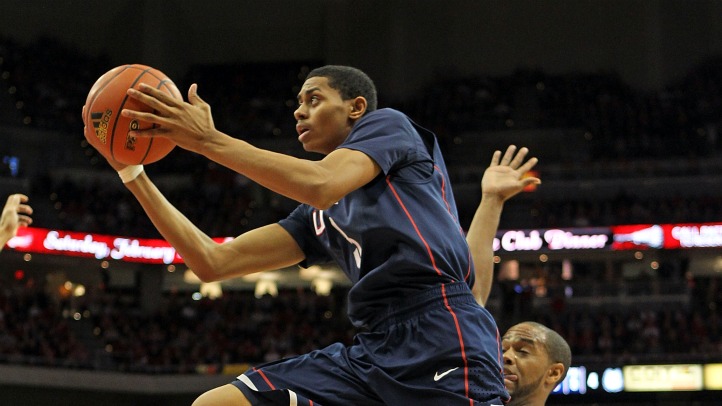 Last week was a long one for UConn's men's basketball team. It started with NCAA sanctions for recruiting violations, then coach Jim Calhoun lost his sister-in-law to cancer, and the Huskies dropped two games in a row. All that to go along with a team long on youth and short on experience and anything could have happened against Cincinnati Sunday.

After the tough loss to Marquette last Thursday, freshman guard Jeremy Lamb said "I didn't hit shots I usually hit." He did that and then some against the Bearcats, scoring 17 points as the Huskies won an important late-season conference game, 67-59, and more than that, kept alive the hopes of a first-round bye in the Big East tournament.

Kemba Walker, UConn's all-everything national player of the year candidate, looked tired against Cincinnati. This is what happens when you have carried your team for four months. In general, a slumping Walker spells doom for UConn. The Huskies star needed 20 minutes to get into the flow of the game Sunday but it wasn't a problem because the freshmen picked up the slack.

I mentioned it after the Marquette game, but even in defeat, there was a silver lining for UConn. The young guys -- Lamb, Shabazz Napier, Niels Giffey -- were doing the little things to make this team better. If shots weren't falling, they were rebounding, playing defense, and hustling for loose balls. The transition from high school to big-time college hoops can be daunting, and it's not uncommon for 18 and 19-year-olds to need months or years to fully adjust. For the Huskies freshmen, it all appears to be coming together just before post-season play. Nice timing.

Against Cincy, Roscoe Smith drained a three-pointer to give UConn a 3-0 lead and other than one early second-half run by the Bearcats, the Huskies were in complete control. Walker only managed five first-half points while Smith, Lamb and Napier combined for 20 (as well as eight rebounds and two assists).

Walker warmed up in the final 20 minutes, telling ESPN after the game that "The fans were talking a little trash and they got me going [in the second half]." (Note to opposing fans: do not make Kemba angry. You won't like him when he's angry. You've been warned.)

Walker also recognized the importance of getting the youngsters involved in the offense. "[The freshmen] stepped up huge," he told ESPN. "I was bad in the first half and they just picked up my slack throughout this whole game. We need that effort from this team and we got it."

Calhoun echoed those sentiments before adding, "It was a very emotional week for me personally -- and for the team -- for a lot of different reasons, obviously, mainly having to do with the passing of a wonderful person … but the kids really gave me a great coming-back present and now we'll get ready for West Virginia and Notre Dame."
No rest for the weary and that's okay.