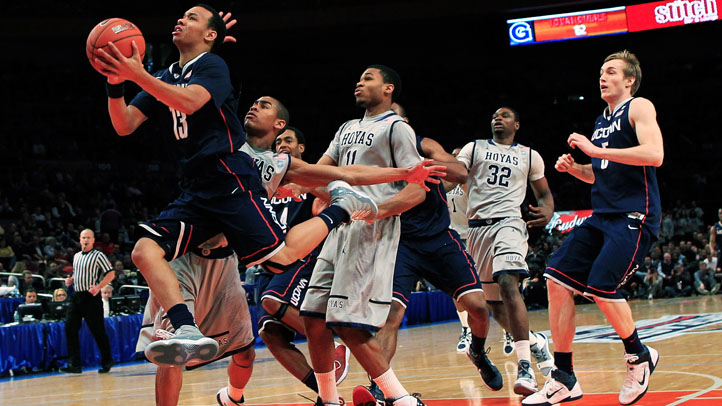 It's been 15 years since Ray Allen and Allen Iverson faced off in the Big East Championship game. Wednesday's second-round tournament match-up between UConn and Georgetown didn't have quite the star power of the 1996 get-together, but the quality of play, at least for the Huskies, was just as impressive.
For UConn, the formula is pretty simple: when they get to the hole they win. The Huskies dominated DePaul in the paint Tuesday, and picked up where they left off against the Hoyas. It was something UConn struggled with earlier in the season, when opponents regularly made Kemba Walker beat them single-handedly.

But not having to face zone defenses makes it a lot easier for Walker to do what he does best: beat his man off the dribble and create his shot, either a driving layup or a mid-range jumper. And once he's inside 17 feet it doesn't really matter because, as coach Jim Calhoun put, "it's gold." Turns out, against Georgetown that was the plan all along.

"Beating a good Georgetown team today the way we wanted to -- we actually said for once that we're going to try to run them," Calhoun told ESPN after the game. "They're thin, let's try to run them."

And run they did. Walker ended the afternoon with 28 points, 20 of which came in transition or inside the arc. The other eight were from the free throw line. In fact, for the season Walker is shooting 48 percent in transition and just 40 percent out of the half-court offense. It makes you wonder why UConn doesn't run every game. But then you remember that until recently this team didn't have an identity; the freshmen were still finding their way and Walker was the Huskies' only legit scoring threat.

That has changed in recent weeks. Depending on the night, Shabazz Napier, Jamal Coombs-McDaniel or Jeremy Lamb have shared the burden. Against the Hoyas they combined for 30 points. Perhaps more impressive: something resembling an inside game from UConn's big men. Charles Okwandu and Alex Oriakhi only managed 11 points, but their play early -- both converting buckets and grabbing offensive rebounds -- set the tone on what would be a 12-point halftime lead and eventually a 17-point blowout.

While Calhoun would never show it on the court, he had a lot to be happy about after watching his team dismantle the Hoyas. Still, the Huskies are two games away from the Big East Tournament Championship. And after that the NCAAs. So there's a lot to be done between now and then, and Calhoun understands as much. Next up: Pittsburgh at noon on Thursday.

"Some of the young kids who played well today are going to have to step it up because quite frankly [Pittsburgh] is one of the best teams in the country," Calhoun said. "It's a good opportunity for us to go against them because I actually believe we can get some momentum going to the NCAA Tournament. … We know we're in for a heck of a fight but you know what? We're really glad to be here."

Well, if the young kids continue to play as well as they have, UConn has a chance. More good news: for the second consecutive game Walker played just 36 minutes. Keep resting him like this and he could be somehow more dangerous down the stretch.