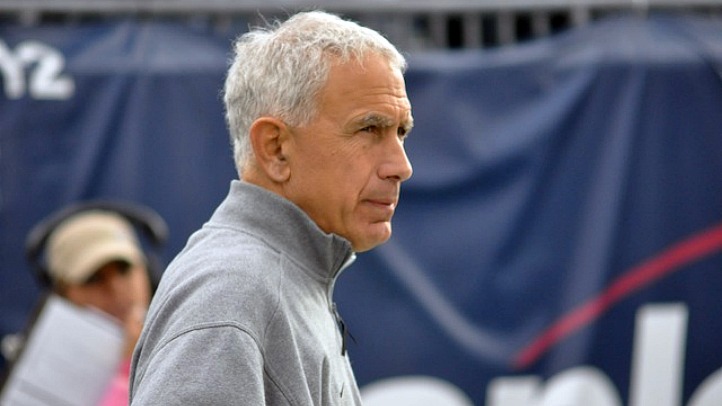 UConn has fired head men's football coach Paul Pasqualoni, a little more than two years before his contract was slated to end.

UConn Director of Athletics Warde Manuel announced on Monday morning that Pasqualoni has been relieved of his responsibilities immediately.

Pasqualoni, 64, of Cheshire, has been head football coach at UConn since Jan. 14, 2011, replacing Randy Edsall, who left to coach Maryland less than 24 hours after the Huskies' loss to Oklahoma in the Fiesta Bowl on Jan. 1, 2011.

"I am making this change in our football coaching staff now as we approach the conference season to see an improved performance from our football program," Manuel said in a statement. "I am disappointed in the record of our team thus far, but I am confident that our coaching staff and student-athletes will continue to work hard to improve and that will be reflected on the field of play as we start our American Athletic Conference season."
Warde has named offensive coordinator T.J. Weist as the team's interim head coach for the remainder of the season.
"I have full faith in him to lead this program in the next eight to nine weeks, maybe longer," Manuel said.
Manuel said, at the appropriate time, he will provide updates on the search process for the next coach.
"The timing of change is never perfect, but change was necessary," Manuel said.
UConn has been winless this season and the firing comes two days after UConn lost, 41 to 12, against the Buffalo Bulls on Saturday.
Manuel said he made his decision on Sunday.
"I am not going to leave you guys with the sense that I was not angry and mad, and a whole bunch of other words that describe how I felt on Saturday evening, but I try not to make emotional decisions," Manuel said during a news conference on Monday afternoon.
On Sunday morning, Manuel called UConn President Susan Herbst, told her what he was thinking and said he would call again later in the day.
At 6 p.m., he called Herbst again and said it was time to make a change.
At 8:30 a.m. on Monday, Manuel met with Pasqualoni and informed him of the decision.
During a news conference this afternoon, he said he thanked Pasqualoni, a Connecticut native.
"He is one of our own," Manuel said. "This was not the result of a lack of effort."
However, Manuel said, the team needs a different leadership to get different result.
"I am not throwing in the towel on this season," Manuel said. "To the contrary. I want this team to wake up, play hard, play tough exciting football that we've come to know."
He said there are players on the team who can play and win, but the team needs to get back to the fundamentals.
UConn also lost to the season opener to Division I-AA Towson and it was their first loss to a Division I-AA school since 2001.
Pasqualoni's contract was through Dec. 31, 2015.
According his employment contract, Pasqualoni will receive from the University a $750,000 payment in full satisfaction of all financial obligations of his contract.

Before coming to UConn, Pasqualoni coached in the National Football League and was on the staff of the Dallas Cowboys and the Miami Dolphins.

Pasqualoni also served as the head coach of Syracuse from 1991 to 2004, where he was Syracuse's second-winningest coach with 107 victories.

In addition, associate head coach and offensive line head coach George DeLeone has also been relieved of his responsibilities.
DeLeon, 65, of New Haven, is a 1970 graduate of UConn. He has worked with Pasqualoni for 25 years and joined the UConn staff when Pasqualoni was brought onboard in 2011.
Mike Foley, who has worked with the offensive line for six years, will take over as offensive line coach.
Weist will make the other coaching decisions.
Looking toward the future, Manuel said the team will honor commitments made to UConn prospects who have committed to the team.