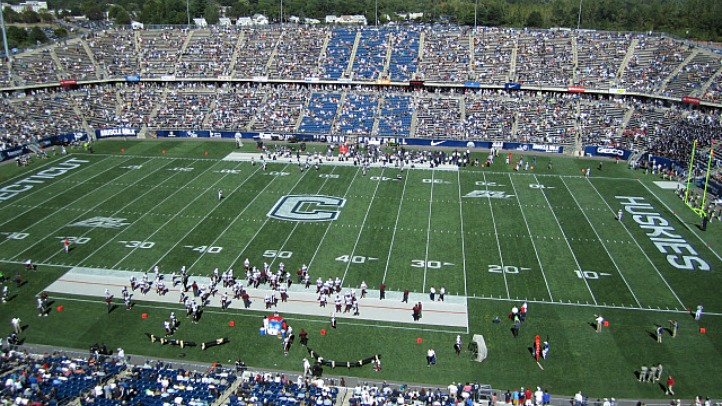 One hundred eighty-eight days. That's how long we'll have to wait for the UConn football team to play its first game under new head coach Paul Pasqualoni. The university announced the 2011-2012 schedule today in a press release, and the Huskies will host Fordham on Thursday, Sept. 1.

"Our home schedule at Rentschler Field features a great mix of exciting match-ups featuring four great Big East Conference games," Director of Athletics Jeff Hathaway said. "The growth of our football program to the point where we played in a BCS game last season has resulted in more enthusiasm for our program than ever before. … Last year, we were undefeated at Rentschler Field, and as we get ready for 2011, we look forward to maintaining the great home field advantage which our fans provide."

Also on the home docket: Iowa St., Western Michigan, University of South Florida, Syracuse, Louisville and Rutgers.

The complete 2011 University of Connecticut Football Schedule:

September
9/1: Fordham
9/10: at Vanderbilt
9/16: Iowa State
9/24: at Buffalo

October
10/1: Western Michigan
10/8: at West Virginia*
10/15: USF* (Homecoming)
10/26 at Pittsburgh*

November
11/5: Syracuse*
11/19: Louisville*
11/26: Rutgers*

December
12/3: at Cincinnati*

*Big East games

For now, though, we wait. Or, if you're really jonesin' for some UConn-related football, there's always the NFL combine, which features six former Huskies. Yes, everyone's in shorts and t-shirts, and it conjures memories of elementary school field days, but it's February.
But the emptiness will soon pass: UConn begins spring practice on March 15 and the spring game is slated for April 16.