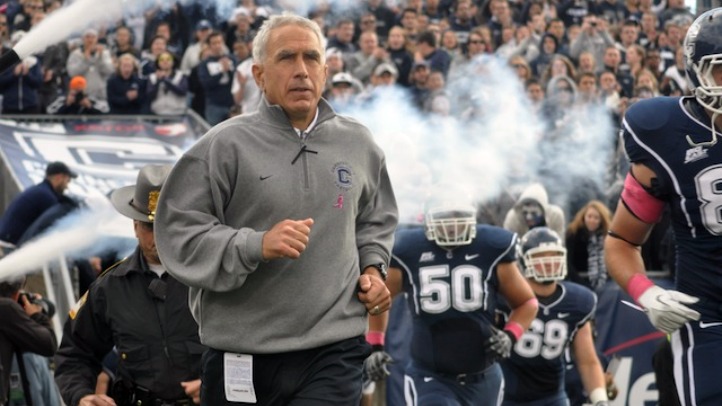 The Huskies football team has one week of training camp behind them and their 2013 fates firmly in front of them. And just like two weeks ago, when camp started, third-year coach Paul Pasqualoni's understands this season can best be summed up thusly: The time is now.

Makes sense, too. The team is coming off back-to-back 5-7 records and one more underachieving effort might be Pasqualoni's last in Storrs.

"You know, every year is different," the coach said at Friday's preseason media day (via the Hartford Courant. "At this time of year you try to figure out what the personality of the team is. We've been at it a week now so it's still a little early, but I'm pleased with the effort and approach of this group.

"It appears to me after one week that they're really unselfish, working really, really well together. I think everybody has a mind-set that they're trying to work hard and contribute to the good of the team."

And the sense of urgency extends beyond the head coach. Senior left tackle Jimmy Bennett also understands the situation.

"You don't want to go out flat like you did last year, 5-7," he said. "You don't want to lose senior night, you don't want to lose your last game of the season. Bang, bang and bowl game, BCS, anything. We want to go to a bowl game. That's the big goal this year. Everyone would like to go to the BCS but just 5-7 sucks; 6-6 isn't much better but it is a whole lot better than 5-7. We want to go to a bowl game and we as an offensive line, want to show we're not what we showed last year."

But unlike the previous two seasons, the Huskies will have to overcome mediocrity without one of the best defenses in the conference. Gone are linebacker Sio Moore, defensive end Trevardo Williams and starting cornerbacks Dwayne Gratz and Blidi Wreh-Wilson. Linebacker Yawin Smallwood remains, but for UConn to really be competitive this season, the offense will have to be a lot more consistent.