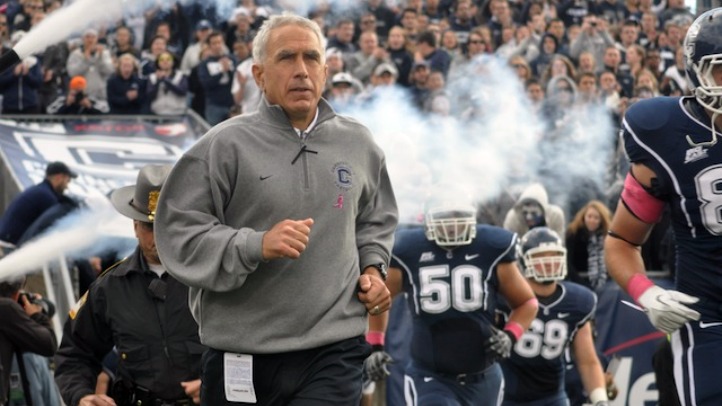 Here's a sobering statistic: the Huskies football team has gone 17 games since winning in consecutive outings. That's right, UConn hasn't had a two-game winning streak since they beat Cincinnati at Rentschler Field on Nov. 27, 2010 and USF a week later. In fact, the average margin of defeat following a win during the 2011 season was 9.4 points. This year, it's 6.5 so that's progress.

Coach Paul Pasqualoni is 16 games into his tenure and he's stressed that inconsistency is one of the biggest issues facing this team. In fact, we wrote about it on Wednesday. Returner and wideout Nick Williams admitted that the Huskies needed to play better but also said that no one was ready to sound the alarm.

I don't think there is a sense of panic or anything," Williams said via the Hartford Courant. "I still think as individuals and as a team we all know what we're capable of. I think you look around the room and you see that senior poster we have, we got some dudes that can play football on this team and we just need to stay focused and play.
"You know, Coach always preaches to play tough and that means not tough where you're scrappy or out there hitting every play because that's expected of you, but tough as in playing up to your ability level each and every day, each and every snap. We still have a lot of football to play, eight games, all of our conference games. I know three years ago we were in a similar situation and we wound up winning our Big East games and we ended up in Arizona [at the Fiesta Bowl] so I don't think there's a sense of panic. People still believe strongly in this team. We just have to play a lot more consistent."

The Huskies' best chance to get those back-to-back victories might have been last Saturday when the team lost to Western Michigan. This week's opponent, Buffalo, should be good for a win but then UConn faces Rutgers, currently 4-0 on the season. And if there's not an upset in the offing against the Scarlet Knights, the Huskies next best chance could come Oct. 13 and Oct. 19 when they play Temple and Syracuse.