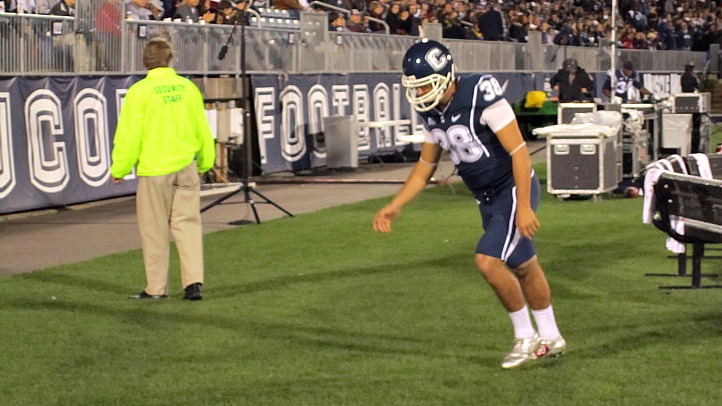 In the weeks and months leading up to the NFL Draft, which took place last weekend, three Huskies were expected to get a chance to play on Sundays next season.
Defensive lineman Kendall Reyes was the only former UConn player to be drafted, going to the Chargers in the second round, but wide receiver Kashif Moore and kicker Dave Teggart have now signed with teams, too.

We mentioned that Moore will get a tryout with the Bengals and according to ESPNBoston.com, Teggart inked an undrafted-free-agent deal with the Bears.

"I'm excited to go out there, but as a kicker you've got to control your emotions a bit," Teggart said on Monday night. "I've got to go into it thinking it's me against me. As long as I do what I know I can do, I'll be fine."

While Teggart is no doubt appreciative of the opportunity, he'll face long odds to make the squad. Incumbent Robbie Gould is one of the league's most consistent kickers. But getting an invitation to minicamp and training camp isn't always about making the squad this year, especially for kickers and punters. It's about doing the most with your opportunities, converting the chances you're given, and impressing enough people around the league so that they remember you whenever a need for a kicker arises.

It's how Gould got his start. After signing as a rookie free-agent with the Patriots in 2005, Gould was released in the preseason only to latch on with the Ravens where he was waived three weeks later. He worked construction while waiting for his next chance and when the Bears came calling, Gould seized the opportunity.

Teggart leaves UConn as the all-time leader in points and holds the single-season record for field goals made.